China Stock Wobbles Leave Global Markets Fumbling for Direction
Jeremy Herron and Stephen Kirkland
S&P 500 rallies in final 30 minutes to end at session highs

Equity bounce arrests crude's slide, while gold, bonds drop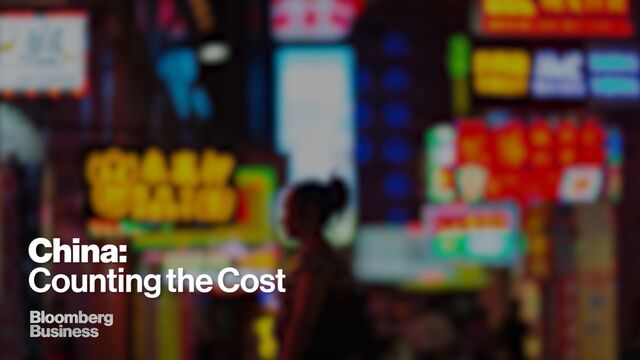 The rout in global stocks let up, with U.S. equities halting a two-day slump after Chinese shares ended their last day of trading this week with the smallest loss since mid-August. The dollar rose, while Treasuries fell.
Stocks retreated worldwide the previous two days as concern China will hamper growth around the globe was revived. U.S. reports today bolstered optimism in the American outlook, and with China stepping into the background for a two-day holiday attention is turning to Friday's payrolls report, which may have bearing on the Federal Reserve's timeline for raising interest rates.

"China's going to be closed the next few days and that means there won't be this negative lead-in to markets in the morning so that will be a nice reprieve," Stephen Carl, principal and head equity trader at Williams Capital Group LP, said by phone. "The date for a potential rate raise is certainly going back and forth and with the recent volatility in the market and situation overseas, people don't have much conviction on when it will be."
The Standard & Poor's 500 Index ended Wednesday up 1.8 percent in New York, extending gains in the final 30 minutes of trading to close at session highs. The Stoxx Europe 600 Index added 0.3 percent, while equities in Shanghai erased most of Wednesday's 4.7 percent drop, ending the session down 0.2 percent as state funds intervened. West Texas Intermediate crude rebounded from a two-day pullback. The Bloomberg Dollar Spot Index rose 0.3 percent and yields on 10-year Treasury notes added three basis points to 2.19 percent.
The Fed's Beige Book released Wednesday indicated the U.S. economy expanded across most regions and industries in the past two months, based on reports gathered on or before Aug. 24. Friday's report on nonfarm payrolls in the world's largest economy will provide the last major data point before Fed policy makers meet from Sept. 16-17.
Stocks
All of the 10 main groups in the S&P 500 advanced today, with shares of industrial and technology companies leading gains, up more than 2 percent. The Dow Jones Industrial Average jumped 293 points, or 1.8 percent, after plunging 469 points on Tuesday.
The S&P 500's 3 percent selloff Tuesday was its third-worst of 2015, trailing losses incurred on Aug. 21 and Aug. 24. Concern that a slowdown in China will curb global growth deepened after data pointed to weakness in Europe and the slowest factory expansion in the U.S. in two years.
While a report from the ADP Research Institute Wednesday saw a smaller increase in payrolls than economists had projected, the number was "decent" and should it be an indicator of Friday's data, the market is in for a "pretty good, not great, Goldilocks-like number," said Eddie Perkin, chief equity investment officer at Eaton Vance Corp., which oversees $311 billion. 
Europe's Stoxx 600 gauge halted its own two-day rally as health-care shares jumped. The equity measure is still 15 percent below the record it reached in April, sending its valuation to 15.3 times estimated profit, lower than U.S. shares.
(For more news on stocks, see TOP STK.)
Emerging Markets
The MSCI Emerging Markets Index slid 0.6 percent, dropping for a third day. Developing equities lost $2 trillion in value last month as concerns over China's slowdown curbed appetite for riskier assets. Mainland Chinese markets will be shut for the rest of the week for holidays commemorating the end of World War II.
Brazil's real slid 1.7 percent, declining for a fourth day as a bigger-than-forecast drop in industrial production added to concern that the nation is facing its longest economic contraction since the 1930s.
(For more news on emerging markets, see TOP EM.)
Currencies
The euro weakened for the first time in three days as data indicated declining wholesale prices in the region, spurring expectations that the European Central Bank will put lowering the currency back on its agenda when policy makers meet Thursday. The dollar strengthened 0.8 percent to $1.1227 per euro. It added 0.8 percent to 120.33 yen.
The pound strengthened for the first time in three days versus the euro as a report showed U.K. construction output rose in August.
(For more news on currencies, see TOP FX.)
Bonds
Benchmark 10-year Treasury yields will climb to 3.1 percent by the end of 2016 from about 2.18 percent Wednesday, according to Bloomberg surveys of economists with the most recent forecasts given the heaviest weightings. The projection has fallen from 3.30 percent as recently as July.
Germany's government bonds rose Wednesday before the ECB's decision on monetary policy. Ten-year German bund yields declined one basis point, or 0.01 percentage point, to 0.79 percent. Traders are looking to ECB chief Mario Draghi for signs the central bank will act to counter deflationary pressures from falling commodity prices and rising yields.
(For more news on bonds, see TOP BON.)
Commodities
West Texas Intermediate crude rose 1.9 percent to settle at $46.25 a barrel, after falling 7.7 percent on Tuesday, as a rebound in U.S. equities bolstered optimism over the world's biggest crude-consuming nation. Prices tumbled earlier in the session as the Energy Information Administration said U.S. crude stockpiles rose by 4.67 million barrels last week, the most since April.
Gold dropped the most in a week as the case for higher interest rates in the U.S. gained ground, damping the appeal of the metal. Futures for December delivery dropped 0.5 percent to settle at $1,133.60 an ounce.
Tin's best rally since 2012 led gains among metals, while wheat and corn slipped.
(For more news on commodities, see CTOP.)