RWE Booted Out of Euro Stoxx 50 as Biggest Benchmark Loser
By
Utility to be removed from gauge after more than 17 years

Company to remain in German DAX Index, LBBW analyst says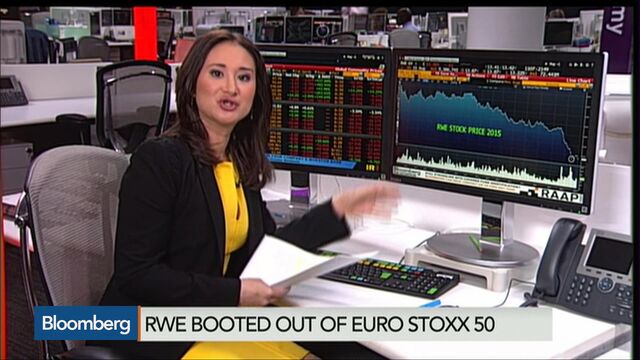 RWE AG, Germany's largest power producer, is getting booted off the benchmark Euro Stoxx 50 Index after its shares dropped 49 percent this year, dragged down by a slump in electricity prices to the lowest in more than a decade.
The index will exclude RWE as of Sept. 21 after more than 17 years, Stoxx Ltd. said Monday in a statement following the close of German equity trading. Shares of the Essen, Germany-based generator Tuesday touched 13.02 euros ($14.66), the lowest price since August 1992, when Bloomberg began to track the stock. Repsol SA, Spain's largest oil company, is also being removed from the index.
German electricity prices are slumping as the nation embarks on an unprecedented shift to renewable energy, weighing on results for generators that run coal, gas and nuclear plants. Baseload electricity for year-ahead delivery slid last week to the lowest level since October 2003. RWE said Aug. 13 its second-quarter loss widened sevenfold amid shrinking margins at conventional power plants and a reduced profit outlook for its U.K. Npower Ltd unit.
"Institutional shareholders are selling RWE," particularly funds that track the Euro Stoxx 50, in expectation that the company will drop out, Uwe Streich, an investment strategy analyst at Landesbank Baden-Wuerttemberg, said by phone from Stuttgart. He spoke in advance of the Stoxx announcement.
Policy Risk
Risks related to Germany's energy policy are responsible for the decline of the company's market capitalization, overshadowing RWE's progress regarding a tightened structure and better financial stability and causing the index exit, company spokeswoman Vera Buecker said by e-mail.
RWE fell 2.2 percent Tuesday to its lowest close on record at 13.105 euros in Frankfurt, with the volume almost 50 percent above the three-month daily average. The company has a market value of about 8 billion euros, less than a 10th the size of Paris-based drugmaker Sanofi, which has the highest weighting in the Euro Stoxx 50.
"The interim phase between decision and implementation brought a slight underperformance" of stocks excluded from the index since 2000 with an average 2.2 percent gap to the Euro Stoxx 50 in the last five days before implementation, Streich said in a July 28 research report.
Monday's closing prices for RWE and other companies in Germany's benchmark DAX Index also will serve as the basis for a review of the measure's membership, with the result scheduled to be released Sept. 3. RWE, this year's worst performer in the 30-company DAX, will probably remain a member of that index, according to Streich.
RWE's 700 million euros of 2.75 percent hybrid bonds due April 2075 Tuesday fell 0.53 cents on the euro to 89.8 cents, the lowest since the bonds were sold in April, according to data compiled by Bloomberg.
Standard & Poor's cut the company's ratings to BBB, the second-lowest investment grade on Aug. 27, citing depressed power prices and an adverse political environment in its home market.