Obama Going on Wild Alaska Hike With Survivalist Bear Grylls
Toluse Olorunnipa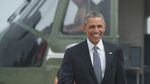 President Barack Obama, who said last week that he's feeling "feisty" as he heads toward his final year in office, plans to show off a bit of his wild side.
Obama will appear on NBC's "Running Wild with Bear Grylls," a survivalist reality show that will take the leader of the free world on a trek through the Alaskan wilderness.
The taping is part of a three-day visit to Alaska this week in which the president will make his case for combating climate change at a series of photo-ready events. After prefacing the trip by renaming the highest mountain in the U.S., Alaska's Mount McKinley, to Denali on Sunday, Obama will visit with fishermen, tour glaciers and meet with local tribes in the Alaskan Arctic.

"I'll travel throughout the state, meeting with Alaskans who live above the Arctic Circle, with Alaska natives, and with folks who earn their livelihoods through fishing and tourism," Obama said on Aug. 29 in his weekly radio address. "I expect to learn a lot."
The president's hike through the wilderness with celebrity survivalist Bear Grylls will air on NBC later this year, the network said. Grylls' show has subjected celebrities including Kate Winslet, Drew Brees and Kate Hudson to "one-on-one adventures that test their survival skills and push them to their mental and physical limits," NBC said in a statement announcing the Obama episode.
Unorthodox media has become something of a fascination for Obama. In April, he toured the Florida Everglades with celebrity scientist Bill Nye. In June, the president taped a podcast interview in the California garage of comedian Marc Maron. In July, Obama became the first sitting president to tour a federal prison, a visit captured by documentary filmmakers for Vice Media Inc.