Ruling on Tom Brady's Deflategate Suspension Expected This Week
Patricia Hurtado and Eben Novy-Williams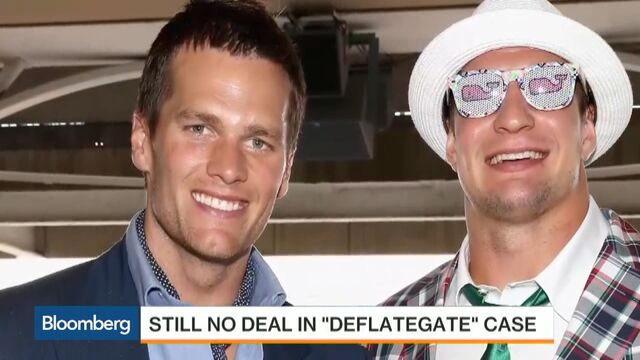 A ruling on Tom Brady's court battle with the National Football League will come this week, according to the judge overseeing the dueling lawsuits.
U.S. District Judge Richard Berman said the two sides failed to reach a settlement that would have taken the decision out of his hands. He said a ruling could come as early as Tuesday or Wednesday on whether to uphold Brady's four-game suspension related to the New England Patriots' use of underinflated footballs in last season's playoffs.
Both sides had asked for a decision by Friday as the Patriots open the NFL season on Sept. 10 against the Pittsburgh Steelers.
Berman's ruling this week likely won't mean the end of the case. Both sides will have the option to appeal, though a decision in the NFL's favor would mean that Brady would have to get an injunction in order to play in the Patriots' first four games of the year.
Berman ordered Brady and Goodell to appear in court in person Monday for a third time in a last-ditch effort to convince them to settle the case. The talks had new participants, including New York Giants owner John Mara, and two NFL Players Association executives -- former NFL kicker Jay Feely and Ira Fishman.
Berman said he had "no questions" about either side's dedication and willingness to reach an agreement.
"Sometimes it doesn't happen, and this is one of those times," Berman said.
NFL officials, including Goodell and their lawyers, declined to comment as they left the lower Manhattan courthouse. Feely, an NFLPA executive committee vice president, was the only person who spoke from Brady's side.
Independent Arbitrator
"We've tried our best to reach a settlement," Feely said after court. "For us it reinforces the desire and the need for an independent arbitrator in these matters of personal conduct."
Berman will have to choose whether to defer to the league's disciplinary process or agree with Brady that NFL officials went outside the rules set by the league's collective bargaining agreement with its players. He has no authority to partially reduce the suspension, only to block it or confirm it.
Brady was suspended after an outside investigation determined he probably knew team employees had deflated game balls below the minimum pressure required by league rules before last season's conference championship game, which the Patriots won 45-7 against the Indianapolis Colts. The quarterback denies wrongdoing.
From the start, Berman has tried to convince Brady and Goodell to resolve their differences out of court. The two men met with the judge for almost seven hours on Aug. 13 to discuss a settlement. Their lawyers have also met with Berman for confidential settlement talks.
Berman, in urging the two sides to end their fight with a settlement, had noted that it takes two years on average to resolve a lawsuit through appeals.
The case is National Football League Management Council v. National Football League Players Association, 15-cv-05916, U.S. District Court, Southern District of New York (Manhattan).