business
If We Rescued the Banks We Can Save Refugees, Merkel Says
Patrick Donahue and Arne Delfs
If We Rescued the Banks We Can Save Refugees, Merkel Says
Patrick Donahue and Arne Delfs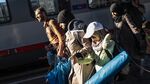 Chancellor Angela Merkel said Germany must respond to the European refugee crisis with the same resolve it showed in rescuing banks and her government will spend billions of euros to handle the tide of migrants.
As the migration of people fleeing war and poverty strains Germany's welcome and sows discord in the European Union, Merkel warned on Monday that the the EU's passport-free travel zone is at risk. EU governments also shouldn't discriminate against refugees on the basis of their religion, she said.
While the 28 EU countries have to find joint solutions, Germany has a duty to step up as Europe's biggest economy and to treat the new arrivals as a potential enrichment for the country's job market, Merkel told a news conference in Berlin.
"German thoroughness is great, but right now we need German flexibility," she said. "We have many examples where we showed we can respond. Remember the bank rescues. During the international financial crisis, the federal and state governments pushed through the necessary legislation in a matter of days."
Merkel said her government will propose a package of legislation by Sept. 24. The goal is to process migrants more quickly to weed out those who don't qualify for political asylum, while boosting funding for states and municipal governments to handle shelter, food and care for refugees.
"This program will be in the billions," Merkel said. Without putting a price tag on the package, she said it wouldn't threaten Germany's balanced budget.
Universal Rights
With Germany expecting as many as 800,000 refugees this year, Merkel expressed revulsion at violent protests outside a shelter near Dresden and a spate of arson attacks on buildings designated as refugee housing. She suggested that half of those who come might be allowed to stay in Germany.
Merkel renewed pressure on her EU peers to agree on a strategy. If EU members don't agree on a "fair" distribution of refugees, the free-travel Schengen area "will be called into question for some," Merkel said.
European Union interior and justice ministers will hold an emergency meeting on Sept. 14 to discuss the crisis, she said.
"If Europe fails on this question of refugees, its close association with the universal rights of citizens will be destroyed and we won't have the kind of Europe that we like to imagine," Merkel said. "Europe as a whole must move on this. The current situation is not satisfactory."