Macau Economy Slumps 26.4% as Anti-Graft Crackdown Deters Gamblers
By and
China's anti-graft crackdown, slowing economy hurt casinos

City's surplus of $1.1 billion down by half from first quarter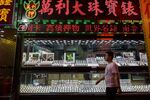 Macau's economy dipped to its lowest since 2011 as high-end gamblers avoided the world's largest casino market amid a widening crackdown on graft in China.
The city where gambling accounts for four-fifths of economic output saw GDP tumble 26.4 percent in the last quarter, according to government data released Monday. The drop worsened from 24.5 percent in the first quarter.

The decline would take Macau's GDP to about 77.5 billion patacas ($9.7 billion) at constant prices, making it the weakest since early 2011.
The only Chinese city where casinos is legal, Macau has seen gross gaming revenue plunge 14 straight months due to the central government's corruption crackdown that kept high-stakes bettors at bay. China's slowing economy has further curbed visits by mass market gamblers and tourists.
"As long as the downward trend in gaming revenue is not reversed, the decrease in GDP would continue," said Ricardo Siu, an associate professor of business economics at the University of Macau.
Diminishing Surplus
The government is due as early as Tuesday to report that the gaming slump deepened in August to a 37.8 percent drop, according to the median estimate of seven analysts surveyed by Bloomberg. That would reverse a gradual easing since February that had given hopes the industry was recovering.
While its economy fared worse than crisis and debt-laden Greece in recent months, Macau's unemployment rate has held steady below 2 percent and its government maintained a surplus.

Still, the fiscal surplus of 8.63 billion patacas ($1.1 billion) in the second quarter has almost halved from a quarter earlier amid falling gaming taxes. Beijing-backed Chief Executive Fernando Chui had said he would cut some government spending if the casino downturn worsens.
Under-Invested
The government should spend more to improve tourism infrastructure after building up its surplus over the years when the gaming industry boomed, said Aaron Fischer, an analyst at CLSA Ltd. 
"One can argue that the government has under-invested because infrastructure has been pretty moderate," said Fischer, adding Macau could draw more visitors including by completing the construction of its light rail system, expand the capacity of its airport, and improving the roads.
Macau's casino operators have been trying to spark a revival with a series of new resorts aimed at drawing mainland Chinese tourists, heeding Beijing's call for the city to reduce its dependence on gambling. Those numbers haven't yet been forthcoming.
Package group tours from mainland China fell 19 percent in July from a year ago, even as the number of hotel rooms in the former Portuguese enclave increased 7.2 percent to 30,000, according to official data Monday.