Ex-Nigeria Security Adviser Dasuki Charged With Arms Offences
Elisha Bala-Gbogbo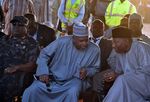 Nigerian prosecutors have filed charges of illegal possession of weapons against Mohammed Sambo Dasuki, who was national security adviser to former President Goodluck Jonathan.
Dasuki is scheduled to appear in court in the capital, Abuja, on Tuesday to face charges including unlawful possession of several assault rifles and ammunition, according to the filing by the Director of Public Prosecutions Mohammed Saidu Diri released to reporters.
If convicted he may face 10 years imprisonment, according the Nigeria's firearms law.
President Muhammadu Buhari, who defeated Jonathan in March general elections, has vowed to wage a war against corruption in Africa's biggest economy and most populous country of about 180 million people.