Einhorn's Greenlight Falls 5.3% as August Rout Deepens Slide
Simone Foxman and Saijel Kishan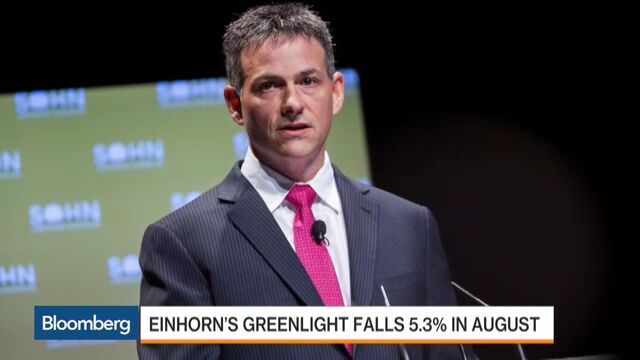 Greenlight Capital, the investment firm led by David Einhorn, fell 5.3 percent in its main hedge fund in August as volatility in oil and Chinese stocks rattled markets.
The loss, disclosed in an e-mail to investors that was obtained by Bloomberg, exacerbated one of the worst years on record for Einhorn, whose fund is down 14 percent in 2015. The turmoil also hit fellow money manager Dan Loeb, whose main fund at Third Point erased gains for the year.
Greenlight is struggling while many of its peers are beating stocks for the first time in years. Unless the firm can rebound in the next four months, 2015 will mark the second year its hedge fund has lost money since Einhorn co-founded it in 1996. The fund's last yearly loss came in 2008, when it fell 23 percent.
"The overall market environment has become acutely unfavorable for our investment strategy," Einhorn said in an Aug. 4 conference call discussing results at Greenlight Capital Re Ltd., the reinsurer where he is chairman. "We don't expect to do well when investors shun value stocks in favor of momentum stocks."
Jonathan Gasthalter, a spokesman for New York-based Greenlight at Sard Verbinnen & Co., declined to comment on the performance.
Loeb's Loss
Loeb's main fund at Third Point dropped 5.2 percent in August, leaving it unchanged for the year, according to an investor. The New York firm's Ultra fund slumped 9.1 percent last month and also erased this year's profits. A spokeswoman for the firm didn't return an e-mail seeking a comment.
Recent volatility hasn't been all bad for hedge funds. The HFRX Global Hedge Fund Index dropped 2.2 percent in the month as of Aug. 28, compared with a 5.5 percent decline for the Standard & Poor's 500 Index. The industry lost 0.9 percent in 2015 through last week, versus a decline of 2.1 percent for the U.S. stock market benchmark, including dividends.
Andrew Law's Caxton Associates, which seeks to capitalize on macroeconomic trends by trading currencies, stocks, bond and commodities, gained 3.5 percent in its main fund last month through Aug. 24. Crispin Odey's primary hedge fund posted a 9 percent gain in the same period by betting against China.
'Bubble Basket'
Of the top six long positions Greenlight disclosed at the end of the second quarter, only gold gained in August. Shares of SunEdison Inc., Greenlight's second-largest position, fell 55 percent after a poorly received earnings announcement compounded a decline. Apple Inc. and Micron Technology Inc., Greenlight's first and third-largest disclosed equity bets as of June 30, sank 7 percent and 11 percent, respectively.
The firm may have profited from betting against what Einhorn has called a "bubble basket" of overpriced momentum technology stocks. Athenahealth Inc., a medical software provider he identified last year as being among the group, declined 5 percent in August.
In Europe, Horseman Capital Management posted a 13 percent gain in its global hedge fund through Aug. 26, bringing year-to-date returns to 21 percent, according to an investor. Its European fund slumped 8.2 percent through Aug. 23, reducing gains this year to 7.7 percent.
A spokeswoman for the $2.5 billion hedge fund, which is run out of London, declined to comment.