Rex Ryan's Ping-Pong Challenge Awaits Pegula After U.S. Open
By
Bills owner's daughter won first match at Grand Slam Event

Coach Ryan has challenged her to a match of ping pong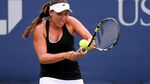 When Jessica Pegula finishes at the U.S. Open, she's got another match waiting for her. Rex Ryan, the coach of her parents' National Football League Buffalo Bills, has challenged her in ping-pong.
"He was talking smack, and I said, 'I don't play ping-pong, just tennis,' but I'm sure I can probably take him," the 21-year-old Pegula said at a news conference following her straight-sets victory over Alison Van Uytvanck of Belgium.
It was Pegula's first match in a Grand Slam tournament, and she was there only after getting a wild card to enter qualifying, then beating three opponents. Monday, she topped Van Uytvanck 7-5, 6-3 in one hour, 24 minutes. Facing each other for the first time, Pegula broke 55th-ranked Van Uytvanck's serve three times and won 69 total points, 10 more than the Belgian.
After having knee surgery in April 2014, Pegula said she watched a lot of tennis, "which hurt a little bit," went to a few music festivals and focused on rehabbing the injury. The down time also gave her a chance to experience her family's purchase of the Bills that September.
"It was a really cool thing I got to do, to be there for all that, because a lot stuff I miss because of tennis, as I'm always traveling," Pegula said.
Before she takes on Ryan, she'll have at least one more Grand Slam match, against Dominika Cibulkova of Slovakia. Cibulkova knocked off seventh-ranked Ana Ivanovic of Serbia in three sets.
Pegula's father, meanwhile, was among the 100 or so people watching the match Monday on an outer court at the National Tennis Center in New York. He said that he wasn't nervous.
"It's obviously fun," Terry Pegula, wearing an off-white "Black Dog" bucket hat, shorts and a button-down short-sleeve shirt, said in an interview during a second-set changeover. "She's worked hard since she was 7."
Pegula ranks 302nd on the Bloomberg Billionaires Index with $4.8 billion. He and his wife, Kim, sold East Resources Inc., a natural gas producer, for about $5.2 billion. The couple also owns the National Hockey League's Buffalo Sabres.
Before the match, Jessica Pegula said she is motivated to make a name for herself. "Regardless of whatever my family is -- and I'm so proud of whatever they've done -- it just kind of makes me more motivated to make a name for myself as just me instead of my parents," she said.