On Sunday Shows, Bernie Sanders Reflects on Iowa Poll Momentum
He's now within striking distance.
By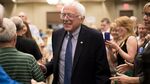 Democratic presidential candidate Bernie Sanders on Sunday said that his Iowa poll gains translate to enthusiasm across the board. 
"Not only in Iowa, not only in New Hampshire, but all over this country we're generating enormous enthusiasm," the Vermont senator said on CNN's State of the Union.
A Bloomberg Politics/Des Moines Register poll out Saturday showed Sanders having gained ground on Democratic front-runner Hillary Clinton, with 30 percent of support from likely caucus-goes compared to her 37 percent. Back in May, Sanders was at just 16 percent and Clinton was at 57 percent. 
During the CNN appearance, Sanders continued to criticize the Democratic National Committee's debate rules, which he and fellow candidate Martin O'Malley, former governor of Maryland, have said appear to favor Clinton. At the same time, though, he toned down the rhetoric a bit. 
"I think rigged is a strong word," Sanders said, adding, "I would like to see more debates."
Sanders also appeared on ABC's This Week, where he addressed Clinton's claim that she already has a swath of delegates locked up, months before the first ballots are cast. Clinton campaign officials said at a Democratic National Committee meeting in Minneapolis on Friday that Clinton already has pledges from a fifth of the delegates she needs. Sanders cast doubt on the idea that such pledges were binding. 
"In terms of the establishment, in terms of the Democratic insiders, she is way ahead of us.  I'm not going to argue that," Sanders said. "But these Democratic leaders are not dumb.  What they want and what I want is to make sure that we do not see a Republican gain control over the White House."