Donald Trump Promises Detailed Tax Plan Soon
At a Friday night press conference, the Republican presidential candidate talks taxes, Jeb Bush and Deflate-gate.
By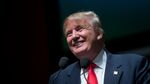 Donald Trump is planning to release "a very comprehensive plan" to untangle the tax code and reduce payments for most Americans — with one notable exception.
"The hedge fund guys have to pay up," said the Republican presidential front-runner at a Friday night press conference.
Trump said he hopes to release his tax plan before the end of September, a month when he indicated his campaign will be entering a new phase of activity. His wife Melania, his daughter Ivanka and other members of the family will begin to appear publicly on his behalf, he said.
The goal in writing his tax plan is  "simplification and reduction," Trump said. But continuing a populist theme he began testing earlier this week, he said he will require some wealthy Americans to "pay their fair share."
"I know hedge fund guys who pay nothing and they make a fortune," he said. "Most of them support Hillary Clinton and Jeb Bush," he added, naming the Democratic presidential front-runner and one of his top Republican rivals.
The billionaire real estate mogul spoke to reporters outside the suburban Boston home of a supporter who was throwing a dinner for him. Trump, who has vowed to underwrite his own campaign, insisted it was not a fundraiser, though he said money was being collected to defray the cost of food.
"I am turning down millions of dollars," he said. "Everybody is offering me money and I'm not interested."
However, Trump added that he "was told there are five or six PACs" forming to support him, an apparent reference to super-PACs, political action committees that can raise and spend unlimited money to support a candidate as long as they do not coordinate with his or her campaign. "I think that's terrific but I don't know any of these people," Trump said.
Trump also continued his mockeryof Bush for winning the endorsement of former House Majority Leader Eric Cantor, now a vice president of the investment bank Moelis & Co. Noting that the former congressional leader lost his seat in a 2014 primary upset, Trump scoffed: "I wouldn't want his endorsement." But he also indicated he may be looking for another target of his frequent jibes.
Bush has been the butt of most of his jokes, Trump said, because he viewed the former Florida governor as his chief competitor. "But he's drifted very much to the middle," Trump said. "We'll have to start looking for somebody else."
The presidential candidate also weighed in on the NFL's Deflate-gate controversy, coming to the defense of the New England Patriots quarterback who is fighting his suspension for allegedly tampering with footballs. "Leave Tom Brady alone!" said Trump, as some spectators applauded. "He's a great champion and a winner."