Walker and Rubio Bash China in Dueling Speeches
The two Republicans resort to a storied rhetorical tradition for presidential candidates.
By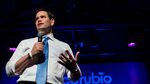 Wisconsin Governor Scott Walker wants President Barack Obama to cancel Chinese president Xi Jinping's upcoming state visit. Stealing some of his thunder, Florida Senator Marco Rubio swooped in and countered that it should be downgraded to a regular working visit.
Welcome to the summer of China-bashing, brought to you by Donald Trump's surge to the top of the Republican presidential field and also by a Chinese economic slump that has caused tremendous anxiety in U.S. markets.
In competing op-eds and speeches Friday in Charleston, South Carolina, both called for a more confrontational posture with China. Both argued that denying China a state visit would show "strength" in the face of the country's recent cyberattack on the U.S. and poor human rights record. Both said Obama has shown "weakness" in the face of the rising global power and critical U.S. trading partner. Walker said Obama has moved to "reward" China, while Rubio used the word "appease." Where Walker said "China needs to be taken to task," Rubio said "we can no longer succumb to the illusion that more rounds of cordial dialogue with its rulers will effect a change of heart." Both candidates called for ending defense sequestration and completing the Trans-Pacific Partnership trade deal.
'Childish U.S. provocation'?
China policy experts aren't impressed. Derek Scissors, a scholar with the conservative American Enterprise Institute, told National Review that rescinding the invite for the China state visit "would be seen as childish U.S. provocation" and "harm our credibility."
The White House has swatted away the Republican candidates' ideas. On Friday, White House press secretary Josh Earnest said Rubio's suggestion that Xi's visit be downgraded to a working meeting "sounds like a proposal from somebody who's running to be social secretary of the White House, not president of the United States.''
Rubio argued that China's "efforts to devalue its currency and rig global trade are a rising threat to our economic interests." He offered more specifics than Walker, proposing sanctions on Chinese companies that have demonstrably "profited from pirating our software or movies or music or any other intellectual property" and promising to ban visas and freeze assets on "Chinese officials who violate human rights."
It's a familiar movie. Apart from George H.W Bush, every president dating back to Ronald Reagan has adopted an anti-China theme of some sort on the campaign trail. It plays well politically, but the realities of U.S. and Chinese economic interdependence have led each of those candidates to reverse course once elected president.
Rubio again steals Walker's spotlight
The dueling speeches mark the second time in two weeks that Rubio has tried to steal Walker's spotlight. After Walker said he'd be unveiling his proposal to replace Obamacare, Rubio responded by publishing an op-ed recycled from an earlier piece he wrote on the subject just ahead of his rival's roll-out.
There's a logic to these moves. Rubio, a first-term senator who faces lingering questions about his experience, has embraced hawkish foreign policy on the campaign trail while holding a seat on the Foreign Relations Committee in Washington. "If I am our party's nominee, Hillary Clinton will not be able to lecture me on foreign affairs," Rubio said in his Friday speech.
Walker, a second-term governor and rookie on foreign policy, is trying to polish his credentials after some missteps earlier this year. His Friday speech featured rhetorical attacks on China as well as criticisms of Obama and Clinton, the former secretary of state, on Middle East policy. Without getting into much detail, he made promises to "secure our homeland" and "fight terrorists abroad before they come to America"—in part by "defeating ISIS and rolling back Iran," and offering American advisory and troop assistance to allies in Iraq and Syrian rebels.
At 44 and 47, respectively, Rubio and Walker are among the youngest candidates in the field and are competing for the support of the "reformicon" crowd of conservative wonks who want the party to focus more on policy. Both see each other as a prime competitor.
You're fired
Their chief competitor at the moment, however, is Donald Trump. But rather than go after him, Walker, in the course of bashing "the Obama/Clinton foreign policy," paraphrased the reality TV star's signature line.
"In the real world—the world outside Washington—when you fail at one job you don't get promoted to another," Walker said. "You get fired."
—Toluse Olorunnipa contributed reporting