Four Suspects Held After Austria Discovers 71 Dead Refugees
Alexander Weber, Patrick Donahue and Marton Eder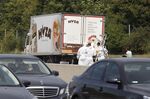 Four suspected smugglers were arrested after Austrian authorities discovered the bodies of 71 refugees inside an abandoned truck near Vienna, laying bare the urgency of Europe's biggest migration crisis since World War II.
Eight women and four children -- one of them an infant girl -- were among the dead found in a refrigerator truck with a Hungarian license plate on Thursday 50 kilometers (31 miles) east of the Austrian capital, police said. Four men suspected of human trafficking were taken into custody in Hungary.
"This should be a wakeup call, a warning that we need to have a European solution quickly," Austrian Interior Minister Johanna Mikl-Leitner told reporters at a press conference in Eisenstadt south of Vienna.
As the crisis grows, European Union governments are bickering over how to deal with the tide of migration by those fleeing war and poverty in the Middle East and Africa. Austria and Germany, which expects 800,000 refugees this year, renewed calls to share the burden of helping migrants throughout the 28-member bloc -- something that other countries reject.
"We need a fair distribution of the refugees and asylum seekers whose applications are approved," Germany Chancellor Angela Merkel told reporters Friday in Berlin, adding the EU may hold a special summit on the crisis once governments have agreed on proposals for dealing with the crisis.
Austrian Demands
Austrian Chancellor Werner Faymann said the EU should stop sponsoring projects in countries like the U.K., Poland, Czech Republic and Baltic nations that refuse to take on refugees. He cited Austria's position as a net donor to the EU's budget as potential leverage for the demand.
"The European Union doesn't work if one says I don't care about the problems of the other," Faymann told Austrian radio Oe1 on Friday. "We are a net contributor, so is Germany, and we contribute to projects where we don't benefit either."
Libyan authorities in the western port city of Zuwara on Thursday found as many as 200 bodies of migrants who drowned offshore after two boats capsized, Italian news agency ANSA reported.
"I absolutely understand the situation in Germany and more widely in the European sphere," Polish President Andrzej Duda said Friday in Berlin. "I'd like to stress that Poland is also being affected, maybe not to the extent we see it in Germany, but it's a fact that in the face of war in Ukraine thousands of Ukrainians have crossed our border and they are seeking to stay."
Grim Discovery
Police in Austria made the grim discovery in the truck, which started its journey on Wednesday, after noticing a stench and blood dripping out of it. The highway, which runs between Budapest and Vienna, is used by asylum seekers heading for Austria and northern Europe. A Syrian passport among the bodies suggests the migrants had come from the war-ravaged country.
The bodies are being brought to a center for forensic medicine in Vienna to try and identify the victims and determine the cause of death, which was probably suffocation, Hans Peter Doskozil, police chief in the Austrian state of Burgenland, told reporters on Friday.
Hungarian authorities said three Bulgarian nationals and an Afghan were in custody in connection with the case. They initially detained seven, questioned almost 20 witnesses and raided houses, the national police said on its website. Doskozil earlier had said three were being held by the Hungarians, believed to be the owner and drivers of the truck.
The truck bore an image of a chicken and of chicken meat products, advertising Slovak company Hyza, a unit of Agrofert Holding AS, owned by Czech Finance Minister Andrej Babis. A slogan on the vehicle read "I taste so good because they feed me so well." Hyza said it sold the truck in 2014 to another Slovak company, which in turn sold the vehicle to Mastermobilker Kft. in Hungary.