Largest Protests of Year Add Pressure on Guatemala President
Michael McDonald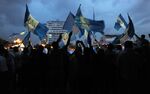 About 70,000 protesters filled a central plaza in Guatemala City on Thursday as part of a national strike meant to demand President Otto Perez Molina's resignation as Congress investigates him over accusations of bribery.
Perez Molina, who has seen five cabinet members resign since last week, met with his security minister and watched live images from street cameras showing the anti-government marchers waving flags and chanting "Otto your time is up." Hundreds of schools and local businesses supported the rally, suspending classes and closing their doors in the country of 14.6 million people.
With the Supreme Court's approval, lawmakers formed a five-member committee Thursday to consider allegations that Perez Molina led a customs tax fraud scheme. The committee could report back to the legislature by Sept. 1, when Congress will vote on whether to strip the president, who has rejected the accusations, of his immunity from prosecution.
"The country is living through dramatic circumstances," said lawmaker Nineth Montenegro, who is on the five-person committee. "For the unity of the nation, the president should have already resigned."
Perez Molina, whose terms expires in January, has said he would confront the charges against him. In an Aug. 23 speech, he vowed to remain in office, even as his central bank president as well as his former vice president are in jail and the country's main business chamber and religious authority call for him to step down.
Economy 'Isolated'
The political crisis has cast a pall over a $59 billion economy, Central America's biggest, which exports everything from coffee and textiles to gold. The yield on Guatemala's dollar bonds due in 2022 peaked at 5.10 percent this week, their highest since February 2014, before falling to 5.07 percent Thursday.
Vice President Alejandro Maldonado, who was approved for the post by congress after former Vice President Roxana Baldetti resigned in May under allegations she took bribes, said it isn't his job to tell Perez Molina to step down.
"Don't ask me to say to the president 'get going because I want to sit in your seat," Maldonado said in an interview on Sonora radio Thursday night. "The president has the experience to understand the messages" sent by the protests, he added.
Economic Forecast
Interim central bank President Sergio Recinos said Wednesday that the economy is still expected to expand 3.6 percent to 4.2 percent this year.
"The economy has been isolated from the political crisis," Recinos said. "Guatemalan bonds have been experiencing small fluctuations within the normal margins. We have always honored our debts."
The turmoil takes place barely a week before the first round of Guatemala's presidential elections on Sept. 6. If none of the 14 candidates secures a majority, a runoff will take place in October. Perez Molina isn't eligible for re-election.
"Let's put this in the hands of justice to see if the president has been involved or not," opposition candidate Luis Fernando Perez said. "The president's legitimacy is in doubt."