Donald Trump Wants to Raise His Own Taxes, and Here's How He Could Do It
The real-estate industry has been fighting to save a capital-gains tax break. Would Trump sacrifice his own?
By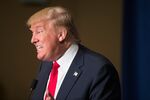 Billionaire Donald Trump, who built his fortune in real estate, told Bloomberg Politics this week that he wants to raise his own taxes. One way to do it is a bipartisan proposal that would blow up one of the real estate industry's favorite tax breaks.