Venezuela Tags 'D' for Demolition on Illegal Border Homes
Andrew Rosati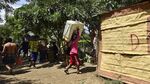 Venezuelan security forces swept through the border city of San Antonio marking a 'D' for demolition on the doors of houses where Colombian immigrants and squatters live illegally, seven days after President Nicolas Maduro closed stretches of the frontier with Colombia.
Houses with legal residents and in better condition are marked with an 'R' for reviewed. The clampdown was triggered by an attack by smugglers last week that left three Venezuelan troops injured. With his country suffering the fastest inflation in the world and chronic shortages of basic goods, Maduro on Thursday called Colombia a "net exporter of poor people" and vowed to keep the frontier closed.
"I hope the government takes action to protect the Colombian people along the border, bans the sale of Venezuelan products from smuggling and prohibits the attack on the bolivar," he said, referring to the national currency. "Until that is done, I won't open the border."
Many families are fleeing San Antonio out of fear soldiers will destroy their homes. Residents say houses marked with a 'D' will be demolished, while homes in better condition belonging to legal residents marked with an 'R,' for reviewed, are preserved.
'Nothing Left'
"There's nothing left for us here," said David Meneces, a 40-year-old factory worker from the slum of Little Barinas as he took his family to the border. "What am I going to do with eight children scared at home?"
Tensions have mounted along the border as smugglers profit from price controls in Venezuela, selling goods across the frontier in Colombia and exacerbating the shortages of everything from rice to toilet paper. Colombian immigrants are increasingly targeted by Venezuelan authorities as the government struggles with declining popularity with the collapse of the once oil-rich economy. More than 1,000 Colombians have already been deported, according to Vielma Mora, the Tachira state governor.
Meneces was heading with his family to a river that divides the two South American nations, where hundreds waded across in recent days. On Wednesday, soldiers began turning away would-be refugees along the riverbank.
Marked With 'D'
There was a heavy military presence in San Antonio on Wednesday with patrols of armored vehicles and national guardsmen combing the slums.
"This is humiliating, we've been here for eight years, I don't know what we're going to do," said Judith Ramirez, 40. Ramirez and her daughter had tried to cross the river on Wednesday morning to reunite with her Colombian husband who fled days before. Troops had turned them back though.

Many residents complained of harsh treatment and threats as authorities searched their cinder-block homes for contraband and identification. It wasn't clear what criteria troops used to mark a house with 'D' or 'R'.
"No one knows what's going to happen; it's chaos," said Maria Casares, a 23-year-old Colombian living in the neighborhood of Little Barinas. She said her home was marked with a 'D' and that she was told to leave despite being eight-months pregnant and married to a Venezuelan.
Unacceptable
Maduro has vowed to keep normally busy crossings closed and to extend military operations to other areas along the border until contraband is curbed.
"Nobody wants the border closed," Maduro said in comments broadcast on state television Wednesday evening. "Nobody wants a conflict like this, but we don't want a group of armed people and smugglers on the border."
The foreign ministers of each country held a meeting Wednesday to address border issues at which they pledged greater cooperation.
Maduro has long blamed smuggling and widespread shortages on his political foes, alleging an "economic war" to oust his socialist government.
Human rights groups blasted the crackdown on Colombian migrants as a political maneuver.
"The government is spearheading a campaign of xenophobia," said Inti Rodriguez, a spokesman for the Caracas-based Human Rights group, Provea. "It is an infringement of international law regarding migration and refugee rights."
Colombian President Juan Manuel Santos demanded fair treatment of Colombian citizens on Tuesday after he spoke to a woman who had been deported by Venezuelan authorities after marking and demolishing half of her house.
"This is the drama that hundreds of our compatriots are suffering in Venezuela," he said, according to a transcript posted on the foreign ministry's website. "Every human, even if you're in a country without legal papers, deserves to be treated with respect and dignity and be treated with due process. That's what we're going to demand."
Colombia's government will guarantee jobs and housing subsidies to those deported from Venezuela, Santos said Wednesday.
Venezuela Declares State of Emergency Near Colombian Border Venezuela Socialist Alliance Sees Support Fall Below One in Five Venezuela Said to Ready Larger Bank Notes as Inflation Soars