Erdogan Is Fighting Wars on Three Fronts
Can he win against the Kurds, Islamic State, and the economy?
By , , and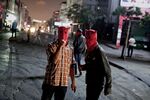 For a few years, Recep Tayyip Erdogan appeared unassailable. As prime minister and now as president, he kept Turkey out of the turmoil afflicting its neighbors and reigned over what seemed to be an unstoppable economy.
That era is over. Turkey's military has struck at targets in Syria and Iraq—at a new enemy, Islamic State, and an old foe, Kurdish militants, as the region's violence has seeped over the border into Turkey's southeast. At the same time, the economy has finally succumbed to politics and global forces. And inconclusive elections in June have given investors, who were already exiting emerging markets, more reasons to avoid Turkey.
The armed conflict has exposed Turkey's mixed motives. The U.S. hailed Turkey's decision in July to begin air strikes against Islamic State. Yet that assault was almost immediately overshadowed by Turkey's parallel operations against Kurdish militants in Iraq, whom the U.S. counts as allies against Islamic State. Turkey sees the Kurds' growing role in the region as stoking statehood ambitions among its own Kurdish population.
The fighting comes at a delicate moment in Turkish politics. After his party failed to form a coalition government with any of its rivals, Erdogan announced fresh elections for Nov. 1. Opinion polls suggest another hung parliament is likely. The country is being run by a caretaker government.
Turkey has "entered uncharted waters, both economically and politically," wrote Wolf-Fabian Hungerland, an economist in Hamburg at Berenberg Bank, in an e-mail. "The global liquidity situation is changing, making foreign capital scarcer, and domestic politics are edging toward paralysis and instability."
Minister of Finance Mehmet Simsek, a member of the AK Party, warned on television that the instability is deterring investment and putting Erdogan's and Turkey's accomplishments over the past dozen years "at risk."
National elections in June saw the pro-Kurdish party, the HDP, win an historic 13 percent of the vote. Those gains helped deprive the AKP, which Erdogan co-founded, of an outright majority for the first time since 2002. The hope was that a new election would lead to a stronger presidency. A survey by Metropoll Arastirma says that the AKP would fail to regain its parliamentary majority if the election were held now.
The investment-grade ratings Turkey has received from Moody's and Fitch Ratings for more than two years are at risk. Moody's has given Turkey a negative outlook. Losing an investment-grade rating would worsen the selloff in Turkish stocks and bonds, which already totals a record $5 billion this year. Turkey's 10-year bond, yielding a high 5.1 percent, is trading like junk. The yield on two-year government bonds has risen more than 3 percentage points from the start of 2015, the most among 20 emerging markets tracked by Bloomberg. That means investors are demanding a hefty rate to compensate for the risk they're taking by buying the bonds. Fitch and Moody's declined to comment.
"I'm pretty sure Turkey will be downgraded if things don't change, and it's hard to see where that change is going to come from," says Markus Kiraly, head of the emerging-markets foreign exchange trading desk at Toronto-Dominion Bank in London. "What the country needs is a stable, democratic government and an independent central bank." Governor Erdem Basci has been under pressure from the Erdogan administration to lower rates.
The lira, down 21 percent this year, is the third-worst performer among 24 major emerging markets. Turkey is more reliant on foreign capital than many countries because of the size of its current-account deficit, which sees more money going out—to service debt—than coming in. Although the deficit is expected to shrink to 4.9 percent of gross domestic product this year, it still compares poorly with the emerging-markets average of 1.5 percent.
Turkey's finances will remain under stress. "The size of the current-account deficit and the amount of debt that needs to be rolled over is so large that it creates risks and vulnerabilities," says Neil Shearing, chief emerging markets economist of Capital Economics. "History suggests this ends in a very messy way."
The bottom line: An outbreak of fighting, dollar-denominated debt, and a weak lira put Turkey's investment-grade rating at risk.
Before it's here, it's on the Bloomberg Terminal.
LEARN MORE