On Colbert's Couch, CEOs Get a Seat, Too
The new Late Show host will chat up execs from beyond Hollywood
By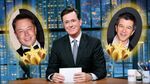 With a couple of weeks to go before the debut of his late-night talk show, Stephen Colbert has revealed a part of his strategy to beat Jimmy Fallon: corporate suits. The comedian, who's taking over from David Letterman, will use his perch at CBS to interview a more diverse range of guests than appears on the average late-night gabfest. For his first week he's booked two of the most intriguing businessmen in the U.S., Tesla Motors Chief Executive Officer Elon Musk and Uber Technologies CEO Travis Kalanick.
Viewers should expect more CEOs in the future—along with astronauts, diplomats, and policy-minded intellectuals, according to Colbert's booker, Emily Lazar. She says a blend of comedy and intelligent conversation can set Colbert apart from his peers, who lean more on celebrity interviews and sketches that get recirculated online. "There are many CEOs who are celebrities in their own right," she says. "I'm not interested in a conventional CEO. I'm interested in people who are innovators, not time servers."
Lazar compared booking Musk—to many, this generation's Thomas Edison—to the appearance of Airbnb CEO Brian Chesky on Colbert's previous show for Viacom's Comedy Central. Her team isn't keen on the hotel or auto industry, but conversations about the sharing economy and the future of energy resonate with viewers. One dream guest? Netflix CEO Reed Hastings, who has reshaped television.
CBS hopes Colbert can deliver something Letterman seldom did in his later years: young viewers. While Letterman drew a nightly audience that dwarfed that of The Colbert Report, Colbert is popular among younger people, the group advertisers care about most. He and Jon Stewart drew more viewers age 18-49 than Jay Leno, the most-watched late-night host, on some nights.
An appearance on late-night TV gives executives the opportunity to connect with viewers in a more personal way. Kalanick runs a company valued at about $50 billion and has been battling established taxi and limo businesses in countries around the globe. "A show that is structured in this way can help give an executive Everyman appeal," says Brian O'Shaughnessy, co-founder of the strategic communications firm the Pramana Collective. "There is growing class tension in this day and age, and given the economic disparity that occurs between the average CEO and the average worker, frankly, participation in a show with this format can have a humanizing effect."
Over the years, Colbert interviewed scientists, authors, and political activists. On the broadcast networks, Letterman and NBC's Leno were more focused on celebrities and top 10 lists. Although Letterman asked tougher questions, any list of his top moments features more interviews with the likes of Drew Barrymore and Madonna than captains of industry.
The new generation of hosts, such as ABC's Jimmy Kimmel, have won loyal followings with playful banter and YouTube-friendly sketches, such as Fallon's Lip Sync Battle on NBC's The Tonight Show. James Corden has aped the strategy with CBS's new The Late Late Show and its popular sketch Carpool Karaoke. "They've learned how to create entertaining little bits, and they've learned how to play with the guest, but I don't think they've learned how to have great conversations with guests," says Jeffrey Jones, director of the George Foster Peabody Awards at the University of Georgia and author of books about political satire.
Colbert's initial guest list suggests he wants to wind the clock back to the days of Jack Paar and Merv Griffin, who'd put politicians and musicians side by side on the same couch, Jones says. In a recent meeting with television critics, Colbert stressed that he isn't going to radically change the formula he used during The Colbert Report. While he will drop the right-wing blowhard shtick, he's still hosting a lighthearted talk show. Musk will appear the same night as Scarlett Johansson, and Kalanick will appear with country music's Toby Keith.
"I'm very interested in my guests, and I'm looking forward to being able to be sincerely interested in what they have to say without regard to having to translate it through an idiot's mouth," Colbert told TV critics in August. "So if that leads to some serious conversations, I'd be very happy."
The bottom line: Stephen Colbert's guests on The Late Show will include more than entertainers pushing their latest film or album.
For more, read this next:
Before it's here, it's on the Bloomberg Terminal.
LEARN MORE