Mining Rout Costs Glencore More Than its Peers
The company said last week it will not cut dividend, despite the slump in commodity prices.
By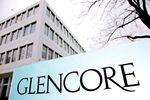 Europe's biggest miners, having lost 23 percent of their stock market value this year, bore the brunt of this week's heavy sell-off amid concern about Chinese growth. Glencore is the worst of the bunch, with its stock trading at the biggest discount to its closest peers in the past two years, along with highest projected dividend yield.