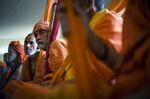 If data from the last half-century are any indicator, Hindu nationalists worried about a Muslim takeover of India this century have little to worry about.
The country added about 600 million Hindus and 125 million Muslims between 1961 and 2011, doubling the population of the former while quadrupling the latter. If those growth rates are projected into the future, it will take until the 26th century for India to become a Muslim-majority nation.

The data counter concerns of fundamentalist groups that the Hindu majority group could be threatened as early as 2050. Last year, the Vishwa Hindu Parishad -- which affiliates itself with Prime Minister Narendra Modi's ruling Bharatiya Janata Party -- organized ceremonies across the country to convert Muslims and Christians to Hinduism, leading to disruptions in parliament.

Communal tensions have long divided India and dotted the country's 68-year history, starting with the partition of India and Pakistan, when the mass migration of more than 10 million Hindus and Muslims resulted in deadly clashes killing hundreds of thousands. The BJP has been blamed for stoking religious conflict, although Modi has publicly called for communal harmony since coming to power last year.
For a country with an overwhelming majority of Hindus, India trails only Indonesia and Pakistan in the number of Muslims worldwide. That lineup isn't likely to change at least until 2030, according to Pew Research.