George Says Too Soon to Tell How Turmoil Affects Fed Policy
Jeanna Smialek and Michael McKee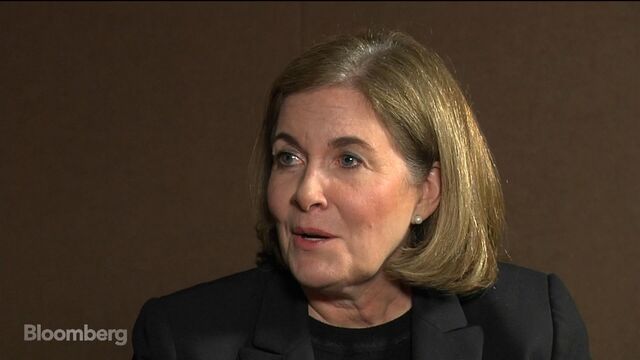 Kansas City Federal Reserve President Esther George said it's too soon to tell whether market volatility is going to affect the U.S. economy, and every policy-setting meeting is a live option for the Fed to begin raising interest rates.
"At this point, for me, I have not seen something that would change my own sense of how the economy is doing," George said, speaking with Bloomberg Television from Jackson Hole, Wyoming, where the central bank's annual retreat gets under way Thursday night. "I thought there was scope to consider rate increases before now, but we'll wait and see what the committee's thoughts are."
George's comments come as the central bank weighs when to increase its main policy interest rate for the first time since 2006 against a backdrop of stock market volatility sparked by concerns over slowing growth in China.
Many investors and economists who expected the Federal Open Market Committee to move at its Sept. 16-17 meeting in Washington have pushed back their projections in response to the uncertainty over the global outlook. George is a voting member of the FOMC in 2016.
"We should expect volatility, I think, from time to time, we are in a period of some uncertainty -- questions about China, questions about global growth," George said. "What it means for monetary policy I think is not yet clear. It's a complication, it's something we watch."
As a result, the Fed will have to see what conditions look like at the time of the September meeting, George said.
Strong Enough
"My own view has been for some time that the economy is strong enough to begin that normalization process," she said. "That would be a sign of confidence, it would limit some of the uncertainty that I think is out there today."
George said that the economy is "back on track" after a weak first quarter, speaking with Fox Business Network in a separate interview, and that her outlook is for continued growth.
"In that context, it's time for us to talk about normalization," she said.
George's remarks come after William C. Dudley, president of the New York Fed, said on Wednesday that "the decision to begin the normalization process at the September FOMC meeting seems less compelling to me than it was a few weeks ago." He also said that the case for liftoff next month could improve as more information comes in about markets and international developments between now and the next FOMC meeting.
Atlanta Fed President Dennis Lockhart on Monday also said developments such as China's slowdown and declining oil prices were "complicating" the Fed's outlook. Investors will get another update on Saturday when Fed Vice Chairman Stanley Fischer speaks in Jackson Hole.
George said that when the Fed does lift off of zero, she expects markets could be volatile.
"The challenge is to see your way through that for the long term," she said. "We've been at zero for a long time."