France's Macron Pledges to Make Labor Market More Flexible
Mark Deen and Caroline Connan
French Economy Minister Emmanuel Macron pledged to loosen the nation's notoriously rigid labor laws to bolster growth in the run up to the 2017 election.
"We will open a new series of reforms -- that is the message I want to convey here," Macron said in an interview with Bloomberg Television in Paris late Thursday. "We will open a new bunch of reforms regarding the labor market, to make it simpler and adaptable, more flexible."

With the clock ticking on President Francois Hollande's five-year mandate and the Socialist trailing in the polls, economists are questioning the government's appetite for reform in the months ahead. Macron used a speech Thursday to France's main business lobby to underline that the country has little choice but to press ahead with such changes at a time when global markets are volatile, joblessness remains near a record high and the nation's growth lags behind that of its peers.
Growth in gross domestic product stalled in the second quarter and has averaged less than 0.5 annually since 2012. Hollande himself has said he won't be able to run for re-election unless he reduces unemployment.
Lawmakers Support
Macron said the government will move to improve France's generous unemployment benefit program and to overhaul the labor code.
"We'll do both," he said. There needs to be a "reshuffling of labor code," Macron said. "There will be a series of measures by year-end to adapt the French economy to digital" opportunities. He added that "too many regulations" hamper innovation in France and training policies also need to be adjusted.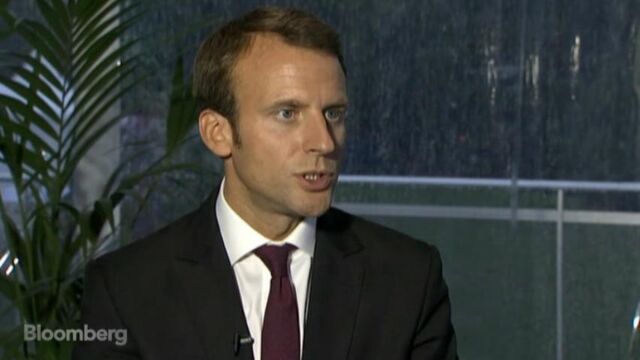 The 37-year-old minister who is the architect of Hollande's policy of reforming the French economy "in steps" brushed aside concerns that the government lacks the political support among lawmakers to pass further free-market measures. Hollande had to invoke emergency powers earlier this year to pass Macron's omnibus economy bill in the face of opposition from Socialist lawmakers.
"Under the French system you have to take into consideration that every five years the president is directly elected by the people," he said. "He's the one that has the legitimacy. When the president and the prime minister decide to implement reforms, they have all the measures they need to pass them and enforce them."
The challenge now is to convince the broader population that the reforms are the right thing to do, he said.
Though his approval ratings have risen from record lows, Hollande still trails former President Nicolas Sarkozy as well as National Front leader Marine Le Pen in popularity, according to a poll published this week.
"What we have to do now is expand the reforms and create a consensus in our society in order to pass them and to deliver," he said. "That's the determination of the president and the prime minister."