Charting the Rebound: China Intervention Lifts Markets
By and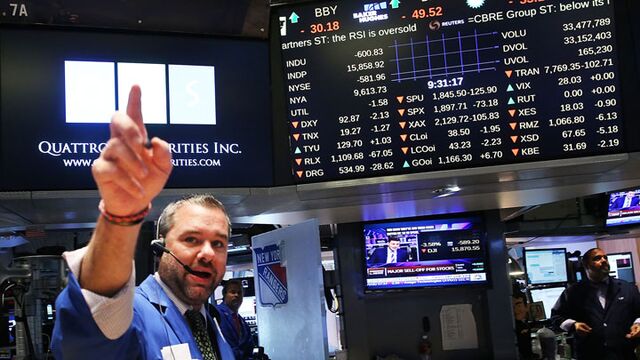 Is there light at the end of the tunnel?
Markets rose across the board on Thursday, as it emerged that China's government intervened in the stock market to end what had become a $5 trillion rout. The effort lifted shares in Shanghai and contributed to a global rebound that followed Wednesday's U.S. rally, which was the largest in four years. European markets also advanced, while oil led broad gains in commodities. 
The Shanghai Composite Index swung from a loss of 0.7 percent to rally 5.3 percent in the last hour of trading, ending its steepest five-day rout since 1996. 

Beijing wants to stabilize the stock market before a Sept. 3 military parade celebrating the 70th anniversary of the victory over Japan during World War II, according to people who remained identified because the move isn't public yet. The parade is important, an event the government will use to demonstrate its rising military and political might.
Europe Joins the Party
European stocks joined the global relief rally, with most major indexes increasing 2 percent to 3 percent. All industry groups advanced, with industrial producers leading the way. The benchmark gauge for European shares, the Stoxx 600, had closed down 15 percent from its April record on Wednesday, with its valuation near its lowest level since January. 

Commodities are Back: But For How Long?
Commodities  suffered as demand ebbed in China, which for years led global increases in demand. Investors showed a renewed openness to risk, according to the Bloomberg Commodity Index, which rose 1.6 percent to stop a long slide that began in June. The index is now down 17 percent on the year, and 5.8 percent in August alone. Oil led the rally with gains hovering around 4 percent. Coffee, soy, wheat and corn were up, with only cattle and hogs in the red.

Mixed Currency Picture
The rebound in stocks and commodities hurt the Japanese yen, often seen as a haven when markets are declining, which weakened against all 16 of its major peers. The U.S. dollar ended ended  a two-day gain versus the euro after Federal Reserve Bank of New York President William C. Dudley said Wednesday the case for raising interest rates in September is less compelling amid recent market turmoil. Russia's ruble led a rebound in emerging-market currencies.