Catch-22 for Zhou as Yuan Support Means Quantitative Tightening
Bloomberg News
The effort to stem yuan depreciation is draining liquidity

Liquidity shortage adds need for easing, pressuring the yuan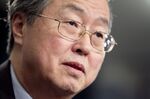 There's a Catch-22 confronting Zhou Xiaochuan.
To defend the yuan from rapid depreciation, China's central bank chief is having to intervene to buy yuan and sell dollars, drying up liquidity in the banking system. That's a brake on growth that leads to more downside pressure on the currency, increasing the need to intervene in the foreign-exchange market, draining liquidity anew. And on it goes.
In a bid to ensure there's enough cash sloshing around for banks to boost lending in a slowing economy, the People's Bank of China this week cut the percentage of deposits banks must lock away and lowered benchmark interest rates. But as recent events have shown, that compounds capital outflows and depreciation pressures, meaning the need for currency intervention and the resulting liquidity constraint may soon confront Zhou all over again.
"If there's depreciation pressure but the central bank doesn't want to let the yuan depreciate, it has to sell foreign exchange to support the yuan exchange rate," said Yu Yongding, a former academic member of the PBOC's monetary policy committee. "One result is that monetary policy is tightening, instead of loosening, and this in turn will force the central bank to conduct counter-operations."
There are also international implications: The selling of currencies is one reason for the recent global selloff in equities, as it amounts to what George Saravelos, global co-head of foreign-exchange research at Deutsche Bank AG, calls "quantitative tightening." 
Easier Policy
With investors trying to gauge how much of its foreign-exchange reserves China will end up spending, the shift may force central banks elsewhere to offset the loss of liquidity with easier monetary policy than they previously anticipated, he said. That could mean the Federal Reserve delaying raising interest rates or the central banks of Japan and the euro area buying more bonds.
"It is hard to become very optimistic on global risk appetite until a solution is found to China's evolving QT," Saravelos said.
The cut in banks' required-reserve ratios to 18 percent, announced on Tuesday, was linked to the need to provide liquidity after the yuan devaluation, the PBOC said in a statement explaining the move. That came two weeks after it sent ripples through global markets by allowing the biggest yuan depreciation in two decades on Aug. 11, when it changed the exchange-rate mechanism to give markets a bigger role in setting the currency's level.

This isn't the first time Zhou has had to face off with markets in his almost 13 years as governor. In the decade since he revalued the yuan in July 2005, he faced waves of money inflows betting on a stronger currency. His response was to oversee a modest-but-steady appreciation by buying dollars and selling yuan, which he had to print to do so and then force banks to lock away for fear of stoking inflation.
All of a sudden, the shoe is on the other foot.
Analysts are questioning if Zhou can succeed in underpinning the yuan. Even with a $3.65 trillion foreign-exchange hoard, China may find it tough to support the currency if the market becomes a one-way bet on depreciation.
Intervention Doubts
"We doubt the sustainability of the intervention," said Zhou Hao, an economist at Commerzbank AG in Singapore.
Yuan positions at the central bank and financial institutions fell by the most on record in July, a sign capital outflows picked up and the PBOC had stepped up intervention to support the yuan.
"If the central bank releases the end-August foreign exchange reserve numbers in early September and there's a big monthly fall, say $200 billion, it will be very painful for the central bank," said Chen Xingdong, chief China economist at BNP Paribas SA in Beijing. He said the PBOC may have to change its gradual depreciation policy by November.
Larry Hu, head of China economics at Macquarie Securities, says three things should be obvious to policy makers since the Aug. 11 devaluation: a weaker yuan can't boost exports because other currencies follow it lower, sensitivity is heightened ahead of an anticipated Fed tightening, and any shock could threaten financial and economic stability. He expects policy makers will "increasingly value a stable environment," with another RRR cut needed by year end to boost liquidity.
Catch-22
This isn't the only pickle facing Zhou: lower interest rates tend to help out state-owned enterprises whose excess capacity is adding to deflationary pressures. Meanwhile, in what's known as the paradox of thrift, weaker economic conditions and the blow to household incomes from lower deposit rates may end up spurring more savings from China's famously frugal citizens.
If the PBOC is able to revive animal spirits and shore up confidence with continuous monetary-policy easing, Zhou may find a way out of his Catch-22.
The yuan weakness now "is mainly caused by capital-account outflows and a lack of confidence in China's economic fundamentals," Standard Chartered economists led by Ding Shuang wrote in a note. The cuts in China's policy rate and reserve ratio, as part of the government's efforts to arrest the slowdown, can "eventually strengthen market confidence" in the yuan, they wrote.