Can Netflix Become Must-See TV in Japan?
The streaming service is betting it can prosper in a land where free TV still reigns
By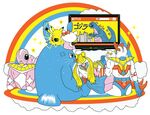 The successful expansion by Netflix into Australia, Canada, Europe, and Latin America over the last five years has increased investor confidence in the streaming service's plan to build the first worldwide, online television network. Its steady growth—users topped 65 million globally in June—has fueled a $22.4 billion increase in Netflix's market value since the end of 2014.
For all its success, Netflix has been a Western phenomenon. About 65 percent of its subscribers are in the U.S., while an additional 19 percent will hail from Brazil, Canada, and the U.K. by yearend, estimates Nomura Securities. By the end of 2016, Chief Executive Officer Reed Hastings wants to reach the rest of the globe, a sprint through more than 150 countries across Africa, Asia, Eastern Europe, and the Middle East. That push begins with Netflix's Sept. 2 entry into Japan, home to more broadband households than any of its current markets outside the U.S.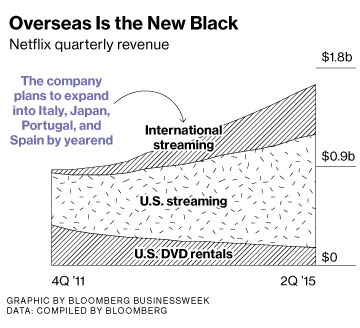 Yet Japan has vexed other Western media companies, including U.S. rival Hulu, who want the country's aging consumers to pay for TV content. And the subscription video-on-demand market there is about a tenth the size of the streaming market in the U.S. That's likely one reason Netflix executives, including Hastings, have lowered expectations. "We expect a slow and steady growth in the Japanese market relative to other markets," Hastings says. "The Japanese are slow to warm and trust the brand."
A smooth rollout in Japan would help calm investors' lingering concerns about Netflix's expansion plans. The degree of difficulty there is higher than in the West; and while every country has its quirks, Japan will be instructive for the company's entry into bigger markets such as China and India, says Vivek Couto, executive director of Media Partners Asia, a media and telecommunications consulting firm. "Japan is a market more challenging than anywhere they've been," Couto says.
Despite Japan's reputation for advanced technology, its TV market is retrograde. Most people watch one of seven free broadcast networks and use digital video recorders to tape their favorite dramas, according to Couto. Fewer than 30 percent of Japanese households even subscribe to pay TV, and subscription video on demand generated sales of just $450 million last year, Media Partners Asia estimates. That compares with about 85 percent and $4 billion, respectively, in the U.S.
"It's not going to be like Australia, where Netflix has streamrolled its way in and became the dominant provider," says Seung Bak, CEO of U.S.-based video provider DramaFever, which buys content from Japan and other international markets. "In Japan there's a culture of not paying for content. That's only just starting to change."
Japan has also turned inward at a time when Hollywood studios have increased their reliance on foreign markets such as China for growth. Foreign films' share of the Japanese box office dropped to 42 percent in 2014 from 73 percent in 2002, according to the Motion Picture Producers Association of Japan. By contrast, China has become the most important foreign market for U.S. films and has overtaken Japan as the world's second-largest film market.
That ups the risks for Netflix, as its global strategy has relied on viewers in most countries having similar tastes. Its most popular shows in the U.S., such as Orange Is the New Black, are also its top shows overseas.
To entice viewers, Netflix will offer local originals at its Japan launch, a first for it in any global market. While local shows eventually make up 10 percent to 20 percent of offerings in most Netflix territories, that will rise to 40 percent in Japan, says Greg Peters, head of Netflix's operations in Japan.
One of the first local originals is Terrace House, a reality show produced by Fuji Television Network that bears some similarity to MTV's The Real World. It will be central to Netflix's pitch to Japanese viewers, as will Daredevil, from Walt Disney's Marvel Studios. While U.S. shows are often relegated to second-tier cable networks in Japan, Netflix sees an opportunity to bring them into the mainstream by promoting them more aggressively than is usually done. "American TV shows are not as popular in Japan," says Ted Sarandos, Netflix's chief content officer. "I'm not convinced that's because Japanese have radically different tastes than the rest of the world."
Netflix figures the potential for an on-demand revolution exists, since much of Japan has access to broadband Internet at home, and people routinely watch videos over their mobile phones. The two largest subscription video providers in Japan have ties to mobile phone carriers SoftBank Group and NTT Docomo, which offer them as part of larger phone packages. Netflix on Aug. 24 announced its own partnership with SoftBank, which will promote the service in its stores and kiosks, on its website, and in other retail outlets. SoftBank customers will be able to pay for Netflix on their phone bill, and the Netflix app will arrive preinstalled on new smartphones in October. Consumer electronics giants Panasonic and Sony have agreed to include a Netflix button on TV remotes.
The deals reflect a conscious effort by Netflix to strike a conciliatory tone with local players that can influence consumers. Hulu struggled to earn that trust when it entered Japan in 2011. The Japanese viewed Hulu as gaijin, or foreigner, according to Media Partners' Couto. Plus, it charged about $15 a month; Netflix will cost less than the $8.99 most of its U.S. subscribers pay. Hulu didn't gain traction until its prices were lowered and its local unit was sold to Nippon Television Holdings in 2014.
The real challenge is to generate excitement in a place that isn't clamoring for Netflix, says Cameron Johnson, a company executive working on the Japanese site. While most Japanese websites are dense with small photos and many entry points, Netflix opted to stick with the spare look it uses in other countries. Johnson says he'll start tweaking the service within minutes of its debut, responding to complaints and praise. Netflix's entry into Latin America in 2011 was slow to take off, but the company credits its eventual turnaround to more than 100 different changes it made to the service based on viewer behavior and feedback.
That nimbleness is one reason investors support the expansion into unfamiliar territory. Anthony DiClemente, an analyst with Nomura Securities in New York, estimates Netflix may approach 5 million subscribers in Japan by 2020, just behind its bigger markets in Germany, Brazil, and the U.K.
Hastings won't give hard numbers, but he's optimistic about Netflix's prospects. "It may be one of our best markets in the long term because when the Japanese society embraces a brand, it is a very deep connection, very long-term," he said on a recent earnings call. "So we're willing to make that investment knowing that it's not the quick route to success that might be in other countries."
—With Pavel Alpeyev
The bottom line: Betting that streaming is a global phenomenon, Netflix will expand to more than 150 countries by the end of 2016.
Before it's here, it's on the Bloomberg Terminal.
LEARN MORE