Apple Already Dominates Smart-Wearables Market, IDC Says
Peter Burrows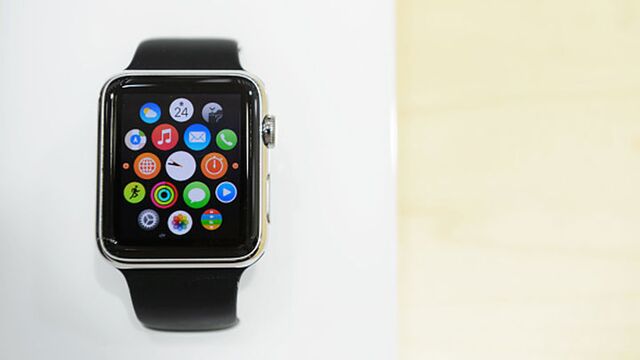 Apple Inc. sold 3.6 million Apple Watches in the second quarter, beating some analysts' expectations and making the company the dominant provider of smart wearable devices after just one quarter of sales, market research firm IDC said in a report.
Apple sold 66 percent of the 5.5 million smart wearables, defined as devices capable of running third-party applications, said Ramon Llamas, research manager for IDC's wearables team. Only 1.4 million smart devices, almost all of them Samsung Electronics Co.'s Gear products, were sold in the quarter a year earlier, Llamas said Thursday.
Apple hasn't released sales data for the watch, though it has said sales exceeded those of the iPhone and iPad in their first quarter on the market. The Cupertino, California-based company reported revenue of $2.64 billion for a broad "other" category that includes the Apple Watch and products such as Beats headphones and iPods. Bloomberg estimated second-quarter watch sales were at least 1.9 million.
Apple vaulted to second place in the total wearables market, which includes fitness-tracking devices made by Fitbit Inc., Garmin Ltd. and Jawbone Inc. Fitbit held the top position with 4.4 million units sold in the quarter, according to IDC.
Gene Munster, an analyst with Piper Jaffray & Co., estimates Apple sold 2.5 million watches in the quarter, based on an average selling price of $550. Apple sells three basic versions of the watch that range from $349 to $17,000 for an 18-karat gold model.
Beating Expectations
"If you believe the IDC numbers, Apple's doing better than you probably thought" in wearables, Munster said in an interview. "Even if you don't believe the IDC numbers, they still have taken great market share in no time. The category is setting up well for Apple, but it's going to take a year or a year-and-a-half to really take off."
Fitbit executives have said they don't believe their business has been hurt by the Apple Watch because their products focus on consumers who are specifically concerned with health and fitness. Fitbit's sales more than tripled in the second quarter, although profit margins declined more than analysts expected.
IDC expects the smart-devices sector to grow to 89 million units in 2019 from 33 million this year, surpassing sales of basic wearables, which are forecast to increase to 66 million units in 2019 from 39 million this year.
The smart segment also is likely to be more profitable, given the higher prices for the devices. The average price of a smart wearable was $402 in the second quarter compared with $96 for the rest of the market, Llamas said.
Best Buy Co. announced Tuesday that the Apple Watch would be available in 900 stores on Sept. 4 and all 1,047 U.S. big-box stores by the end of the month. The chain began offering models of the watch costing from $349 to $700 about three weeks ago on its websites and at 100 locations.
Before it's here, it's on the Bloomberg Terminal.
LEARN MORE