Cheap Central Park Apartments, With a Catch
Oshrat Carmiel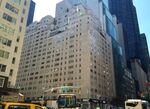 On a street with some of New York's most expensive homes, a two-bedroom apartment can be found for $849,000 -- a relative bargain in supply-strapped Manhattan.
But there's a catch.
Carnegie House, a 21-story co-op on 57th Street near Central Park, doesn't own the ground beneath the building and its shareholders pay rent to the investors who do, an expense that cuts into what the units are worth. The annual bill may jump fivefold or more in a decade, when the lease terms are scheduled to reset based on Manhattan land values.
Many residents aren't waiting that long. Listings at the tower have surged this year, with 49 of the 324 apartments coming to the market, as owners choose to escape the specter of added costs that could further erode the value of their homes. The situation is rare in Manhattan, where most co-op dwellers have benefited from the escalating buyer demand that's pushed marketwide apartment prices to an all-time high.
"It's not very often that we see no growth in asking prices in this market," said Alan Lightfeldt, data scientist at real estate website StreetEasy. "Sellers elsewhere in Manhattan are feeling quite bullish."
The number of Carnegie House units listed this year is the most in StreetEasy records dating to 2010. Thirty-seven of the apartments hit the market in the second quarter, the largest tally for any three-month period.
The median asking price of this year's listings at the tower was $629,000, or 2.5 percent less than in 2014. Homes that sold through Aug. 17 did so for a median of $620,000, unchanged from last year and down 2.7 percent from 2013, StreetEasy data show.
Across Manhattan, the median home price was $980,000 in the second quarter, according to appraiser Miller Samuel Inc. and brokerage Douglas Elliman Real Estate. And Carnegie House is in a particularly prestigious neighborhood, sharing a block with Carnegie Hall and One57, the ultra-luxury condominium tower where a penthouse sold for a record $100.5 million.
Board Outbid
The co-op's board tried last year to buy the land but was outbid by a partnership including investors David Werner and Rubin Schron, who paid $261 million for the 25,000-square-foot (2,300-square-meter) parcel. It was the most expensive lot purchase in Manhattan in 2014, according to research firm Real Capital Analytics Inc.
When the ground lease is up for renewal in 2025, the co-op will be "going up against two professional investors," said Peter Hauspurg, chief executive officer of brokerage Eastern Consolidated, who had no role in the transaction. "I'm sure some deal will be cut, but knowing the guys involved, it's going to be painful."
Another New York co-op with a ground lease, Trump Plaza on East 61st Street, was able to avoid a showdown with investors by purchasing its own land. Shareholders were assessed for their portions of the $185 million price tag -- forcing many to take on new mortgages and personal loans -- and the deal closed in February, extinguishing any rent obligations to an outside owner.
Since then, unit values have increased, based on sales that have gone under contract, said Jonathan Miller, president of appraiser Miller Samuel Inc., who advised Trump Plaza's board.
Land Value
At Carnegie House, the annual ground rent, currently $4.1 million, is scheduled to reset in March 2025 to a rate equal to 8.2 percent of the land's market value at that time, according to documents connected to a mortgage for the investors' purchase.
The lot at the time of the Werner and Schron deal was appraised at $260 million, the documents show. If the property simply remains at that value 10 years from now, the rent burden -- paid for largely through maintenance fees charged to co-op shareholders -- would jump to $21.2 million.
"If you're a person who can't afford the increase, sell today," said Adam Leitman Bailey, a New York real estate attorney who isn't involved in the building.
Should the co-op default on the lease, the land owners could take possession of the tower, according to Bailey. If that happened, shareholders would lose all the equity in their units, he said.
Christa Segalini, a spokeswoman for Schron's Cammeby's International, declined to comment on any plans for the land. Ronald Cook, identified in documents as president of the Carnegie House co-op board, also declined to comment.
Listing Discounts
The units on the market at Carnegie House include a 450-square-foot studio listed for $299,000. That's 21 percent less than the Manhattanwide median for studio co-ops that sold in the second quarter, according to a report by Miller Samuel and Douglas Elliman.
The most expensive listing is a three-bedroom home with two terraces that's being offered for $1.35 million, 10 percent less than what its owner sought in March, according to StreetEasy.
With the lease reset approaching, "some people have put their apartments on the market that wouldn't have otherwise," said Harry DiOrio, a Douglas Elliman broker who is marketing five apartments at Carnegie House. Others are simply moving on, he said.
Among DiOrio's listings is a 1,500-square-foot unit whose owners are offering to convert the formal dining area into a third bedroom at their expense. The asking price, $1.2 million, is 24 percent less than the Manhattan median for two-bedroom co-op sales in the second quarter.
The array of listings may be an opportunity to get an apartment at a discount in an attractive Midtown neighborhood, said Joshua Stein, a New York commercial real estate lawyer who isn't connected to the property.
"If you get a cheap enough purchase price, it may more than compensate you for the burden of having to pay all that maintenance down the road," Stein said. "Some buyers might say, 'I'm willing to live with that risk.'"