Obama Turns to Local Audiences to Sway Fence-Sitters on Iran
Toluse Olorunnipa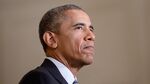 President Barack Obama appeared on evening newscasts in the hometowns of fence-sitting lawmakers he's trying to persuade to support a proposed nuclear deal with Iran.
In interviews at the White House on Wednesday with television anchors from Detroit, Philadelphia, Seattle and Washington, D.C., Obama made his case to audiences in states where Democratic senators haven't declared their decision on the Iran accord.
"We don't want to have Iran get a nuclear weapon, and every credible expert who has looked at this has said that this is the best path," Obama said in an interview with WJLA-TV, an ABC affiliate in Washington that reaches the Democratic-leaning suburbs in Maryland and Virginia.
Obama said he's "confident that this deal will go forward" and that getting sufficient legislative support would be less difficult than the passage of his signature health-care law five years ago.
The president is seeking airtime on local television sets already blanketed with thousands of ads from opponents and supporters of the deal to curb Iran's nuclear program. As he tries to build support in the public and in Congress, the president is targeting a handful of lawmakers who will determine whether the agreement survives.
The fourth-ranking Senate Democrat, Patty Murray of Washington, said on Tuesday that she would support the deal, leaving Obama just five votes short of the number needed in the Senate to sustain a promised veto of a resolution disapproving the Iran agreement.
Advertising Deluge
Obama's interviews will air on channels in the home states of Senators Gary Peters of Michigan, Bob Casey of Pennsylvania, Chris Coons of Delaware, Maria Cantwell of Washington, Corey Booker of New Jersey and Ben Cardin and Barbara Mikulski, both of Maryland. All are Democrats who have not declared their positions on the accord.
Television viewers in those markets have already been inundated by advertising from both sides in the debate.
Nationally, 14 groups have spent an estimated $14 million to run about 24,600 TV spots supporting or opposing the Iran agreement in 55 local broadcast markets and national cable, according to data compiled by Kantar Media's CMAG, which tracks political advertising.
The Baltimore market had seen more than 1,340 ads on broadcast television through Aug. 24, the most in the country. Another 700 have aired on Washington, D.C., broadcast channels.
The third-largest market by volume of ads was Philadelphia, where more than 1,200 spots have aired.
Coons will announce his decision September 1 at the University of Delaware, said Sean Coit, his spokesman.
Lobbying Booker
Booker has been lobbied heavily by the White House and by opponents of the deal, including Citizens for a Nuclear Free Iran, a group created by the American Israel Public Affairs Committee. It has spent about $9 million on television ads nationally, more than any other group, according to CMAG.
The chairman of the Senate Foreign Relations Committee, Republican Bob Corker of Tennessee, said Wednesday in a speech at Belmont University in Nashville that he expects Obama to have enough votes to preserve the deal, according to the Tennessean newspaper.
Obama said opposition to the deal was mostly based on partisan political considerations and would die down over time.
Political Considerations
"The politics of these things today are going to be very different than the politics a year or two years from now when people see that we've been able to shut off Iran's nuclear program from advancing in a way that could pose a threat to us," he told WJLA.
Obama spoke conducted the interviews just hours after a television reporter and cameraman were killed during a live broadcast in Virginia. He reiterated his call for re-evaluating U.S. gun laws.
"It breaks my heart every time you read about or hear about these kinds of incidents," Obama said in an interview with WPVI, the ABC station in Philadelphia. "The number of people who die from gun-related incidents around this country dwarfs any deaths that happen through terrorism."
Obama also did an interview with a local anchor from New Orleans to discuss the 10-year anniversary of Hurricane Katrina. The president is traveling to that city on Thursday.