Here's A Bush Who Can Promote His Handling of Hurricanes
Ten years after his brother was flayed for the botched handling of Hurricane Katrina, Jeb Bush has found an issue that distinguishes him from his brother and father.
By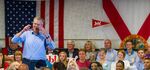 Republican presidential candidate Jeb Bush has spent much of his campaign so far trying to prove that he's not riding the coattails of his brother and father. To distinguish himself from the two former presidents, he's emphasized his immersion in Latino life—his marriage to a Mexican American woman, his mastery of Spanish, his deep roots in Miami—to the point he considers himself bicultural. He's also distanced himself, often reluctantly, from his brother, former President George W. Bush, on issues such as the Iraq war and fiscal discipline.