Gold Gets Ignored Amid Market Turmoil as Focus Stays on Fed
By and
Assets in bullion ETPs fell for first time in five days

Silver futures post worst four-day decline since 2013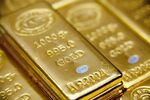 This week's turmoil across global markets did little to bring people back to gold as investors ignored the metal's haven appeal and focused, instead, on the prospect of higher U.S. interest rates.
Futures in New York fell for a third straight day, the longest stretch this month, even as global growth concerns spurred the biggest global equity rout in four years. Citigroup Inc. cut estimates for gold, silver and other metals, and investors pulled money from exchange-traded products backed by bullion for the first time in five days.
Traders are pricing in an almost 50 percent chance that the Federal Reserve will start tightening monetary policy by the end of the year. Higher rates curb the appeal of bullion because it doesn't pay interest or offer returns, unlike competing assets. Gold is heading for a third straight annual decline after some investors lost faith in the metal as a store of value.
"Gold traders seem to be disconnected," George Gero, a vice president of global futures at RBC Capital Markets in New York, said in a telephone interview. "They are worried we will actually see an interest rate hike if not September, then October now, even while people are concerned about the volatility in the stock market."
Gold futures for December delivery lost 1.2 percent to settle at $1,124.60 an ounce at 1:46 p.m. on the Comex in New York. Prices dropped 1.8 percent in the previous two sessions.
Prices pared losses after New York Fed President William Dudley said the case for raising interest rates in September is less compelling because of international financial and market developments. Some analysts are now focusing on October for a rate increase.
Investors are backing away from bets on a rally. The four most-traded options Tuesday were calls that suffered declines of at least 20 percent. The contract with the fifth-highest volume was a put giving the owner the right to buy November futures at $1,125, the price for that option has more than doubled this week.
Also on the Comex, silver futures dropped 3.9 percent to $14.078 an ounce, after touching $13.95, the lowest since August 2009. Prices fell 9.5 percent over four sessions, the biggest such drop since June 2013.
Palladium sank for a fourth day, sliding as much as 3.7 percent to $519.20 an ounce on the New York Mercantile Exchange, the lowest since September 2010. In South Africa, mine output of platinum and related metals, including palladium, surged 84 percent in June from a year earlier, official data showed Tuesday. The country is the world's top palladium producer after Russia. Platinum climbed on the Nymex.