business
Ex-Currency Trader Sues HSBC as Unfair Dismissal Suits Grow
Suzi Ring and Jeremy Hodges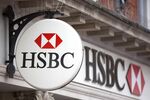 Former HSBC Holdings Plc foreign-exchange trader Serge Sarramegna sued the bank after he was dismissed amid a global probe into currency rigging, adding to a host of claims that have emerged from the investigation.
Sarramegna filed the suit in a London employment tribunal claiming unfair dismissal and so-called public interest disclosure, or whistle-blowing, according to court documents. Sarramegna was suspended from the bank in January 2014 and officially left nine months later, people with knowledge of the situation said at the time.
The case, which has a hearing date next month, is one of several unfair dismissal lawsuits to reach the court in recent weeks after investigations at the world's biggest banks into foreign-exchange manipulation led to the departure of more than 30 employees. Some of the individuals were fired because of alleged behavior unrelated to currency rigging discovered as a result of the probe.
"The traders have to decide whether they have anything to lose in bringing claims against the banks," said Jo Keddie, an employment lawyer at Winckworth Sherwood in London. "Some may feel very let down and sufficiently tarnished as regards future roles and damage to their reputations that they'll have little to lose."
Alleged Malpractice
Sarramegna declined to comment on the suit when contacted by phone. A spokeswoman for HSBC didn't immediately respond to a request for comment.
Four former Citigroup Inc. currency traders are also suing the bank for unfair dismissal, according to claims made public earlier this month. Separately, Paul Carlier, a former foreign-exchange trader at Lloyds Banking Group Plc, is suing the U.K.- based lender, claiming he was dismissed for blowing the whistle on alleged malpractice.
The banks "want to be seen to be fighting" the claims, said Martin Pratt, an employment lawyer at Gordon Dadds in London. "The last thing you want is to have the perception of things being swept under the carpet."
(Updates with lawyer comment starting in fourth paragraph.)
Before it's here, it's on the Bloomberg Terminal.
LEARN MORE