Fed's Dudley Cools September Prospects While Leaving Room to Act
Jeanna Smialek and Matthew Boesler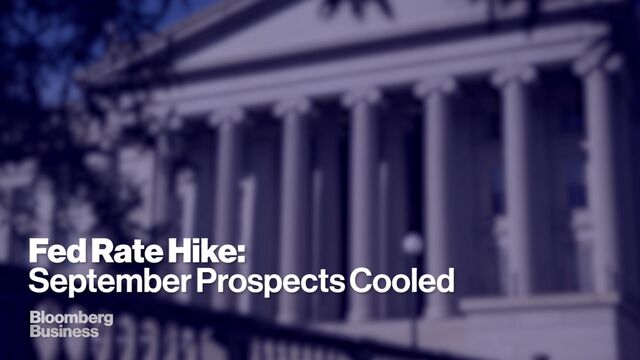 A September interest-rate increase is looking increasingly in doubt, though not totally off the table, amid market turmoil and weakened Chinese growth.
That's the message Federal Reserve Bank of New York President William C. Dudley delivered in an unscheduled statement Wednesday, the first from a senior Fed official to explicitly dial back expectations for a September liftoff.
It comes after Atlanta Fed President Dennis Lockhart two days ago said developments such as China's slowdown and declining oil prices were "complicating" the Fed's outlook. Investors will get another update on Saturday when Fed Vice Chairman Stanley Fischer speaks at the central bank's annual retreat in Jackson Hole, Wyoming.
"From my perspective, at this moment, the decision to begin the normalization process at the September FOMC meeting seems less compelling to me than it was a few weeks ago," Dudley told a news conference at the New York Fed. "Normalization could become more compelling by the time of the meeting as we get additional information on how the U.S. economy is performing, and more information on international and financial market developments."
Through his remarks, Dudley, who serves as vice chairman of the Federal Open Market Committee, made clear that policy makers are attuned to market volatility and the prospect of a worse-than-expected Chinese slowdown as they assess whether to raise interest rates for the first time in more than nine years.
"He acknowledged lower odds on September liftoff but didn't completely close the door," said Michael Feroli, chief U.S. economist at JPMorgan Chase & Co. in New York. He said Dudley's remarks are in line with what markets expected and were probably intended to show that central bankers are "not asleep at the wheel."
Dial Back
"If you had a really strong view on September, you might be taking some chips off the table," Feroli said.
World financial markets have been convulsed by concerns over weaker growth in China just as the Fed approaches a decision on its first rate increase since 2006. About $8 trillion has been erased from the value of global equities since China's surprise devaluation of the yuan on Aug. 11 as investors weigh a darkening outlook for the world's second-largest economy.
Dudley is the most senior Fed policy maker to speak publicly since the market rout began. His remarks were more direct than those by Lockhart, who on Monday said that while he still expects the first rate increase later this year, a stronger dollar, weaker yuan and falling oil prices complicated the U.S. outlook. Lockhart declined to say if he favored moving in September or delaying.
Fed Fund Futures
Amid the recent turmoil, investors have scaled back their expectations for a Fed move next month. Trading in federal funds futures on Wednesday implied about a 25 percent probability that the Fed will act in September, compared with almost 50 percent on Aug. 18.
Dudley probably recognized that his comments would push expectations further away from September, said Tom Porcelli, chief U.S. economist at RBC Capital Markets LLC in New York.
Dudley's statements came in an unexpected set of prepared remarks added at the end of a previously scheduled discussion on the New York state and local economy. Viewed in that light, it's "reasonable to read this as a carefully constructed response by the Fed to recent market developments," JPMorgan's Feroli wrote in a note to clients.
"I thought he was pretty clear," said Michael Hanson, U.S. senior economist at Bank of America in New York. "September has become extremely uncertain for the committee, but I don't think it has been ruled out by the committee."
2015 Liftoff
The FOMC meets on Sept. 16-17 in Washington. This year's remaining meetings are scheduled in October and December. Investors saw a 33 percent chance of a move in October and a 49 percent probability they would act in December, according to trading in fed funds futures.
Fed Chair Janet Yellen said in Congressional testimony in July that the central bank is likely to raise rates this year if the economy grows as expected. Even as he tempered expectations for liftoff next month, Dudley said that ideally the Fed should still begin tightening in 2015.
"I really do hope that we can raise interest rates this year, because that would be a sign that the U.S. economic outlook is good and that we're actually on track to achieve our dual mandate objective," said Dudley, the only regional Fed president with a permanent vote on the FOMC. "Let's see how the data unfold before we make any statements about exactly when that might occur."
Data Dependent
Fed officials have consistently said they are data-dependent as they weigh when to lift rates, and Dudley said Wednesday that domestic statistics aren't the sole focus of policy makers.
"Data is not just about the economic releases," which have "actually been pretty positive," Dudley said. "That's part of the story, but you also have to look at all of the other things that could potentially affect the economic outlook."
International and financial market developments have relevance because they can "impinge and affect the economic outlook," he said.
Dudley said one important way that market volatility could influence the U.S. economy was through the so-called wealth effect, in the event that stock market losses lead Americans to cut back their spending. Another key channel is what happens to inflation, which has been running below the Fed's 2 percent target for more than three years.
Import Prices
"One thing we'll have to be focused on is, what's the implications of this turmoil on the prices of goods and services that we import into the U.S. and how is that going to affect the inflation outlook," Dudley said.
The New York Fed chief also noted that August employment data, which will be released next week, will have been gathered too early to catch the effects of the market gyrations. Porcelli said that comment could mean that the payrolls report, one of the key remaining economic reports coming ahead of the September meeting, now has diminished importance.
Economists surveyed by Bloomberg forecast the report will show a 200,000 gain in payrolls for August.
"Even if we get a plus 300,000, I don't think it matters," Porcelli said. "Leading into Dudley, you would have thought that this payroll report was the most important report that we'd see all year. It's now not."