Are Savvy Students Sabotaging Big Textbook?
College kids are studying smarter—and cheaper—threatening the textbook industry's high prices.
By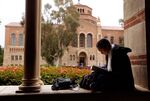 Prices for new college textbooks have risen steadily since the 1970s, but students have started to spend less on them. College students spent an average of $563 on books in the 2014-15 school year, 20 percent less than in 2007-08, a study released last month by the National Association of College Stores shows.