Airbus Delays Transaero A380 Delivery, Cites Russian Economy
Andrea Rothman and Andrey Lemeshko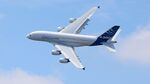 Airbus Group SE has postponed the delivery of its A380 superjumbo to Transaero Airlines in order to help the No. 2 Russian carrier cope with slowing travel demand in its home market, a senior sales executive at the planemaker said.
Transaero is buying four A380s, initially slated for delivery from this year. A new schedule is under discussion as lower oil prices and sanctions over Russia's annexation of Crimea weigh on the economy and ruble, crimping flight bookings.
"We're working with them to determine new dates," Chris Buckley, Airbus's executive vice president for customer affairs, said Wednesday in an interview at the Moscow Air Show. "Given the turbulence in the Russian market overall over the last two years, this is no big surprise."
Fabrice Bregier, chief executive officer of Airbus's plane-making arm, said April 17 it was in talks with Transaero and other Russian carriers about deliveries. The A380 delay comes after the company lost an order for six jets with the financial meltdown of Japanese carrier Skymark Airlines Inc. In the U.K., Virgin Atlantic Airways Ltd. is also mulling whether it really needs six superjumbos it has on order, while Airbus hasn't won a new airline client for the double-decker in about three years.
Buckley said Airbus also needs to work on getting Transaero to firm up contracts for 20 A330 planes for which it signed an outline deal at the Farnborough Air Show in 2014.
Aeroflot Dreamliners
Boeing Co. has said it, too, is negotiating alternative schedules with Russian buyers. Martin Bentrott, vice president for civil sales in the Middle East, Russia and central Asia, said Tuesday at the Moscow show that Aeroflot Russian Airlines may still take 22 787s worth $4.8 billion, though not before 2018. Giorgio Callegari, deputy chief executive at Russia's biggest carrier, said in June that the order had been scrapped.
The number of Boeing and Airbus planes deployed by Russian airlines has fallen as they return rented planes to lessors to help curb capacity. Carriers are taking a double hit from the economic contraction combined with high borrowing costs after interest rates were raised to slow the ruble's slide.
Transaero also has four Boeing 747-8 jumbos on order and is scheduled to take the first two this year. The order "remains unchanged," Boeing spokesman Doug Alder said in an e-mail.