Why Does Donald Trump Need a Ground Game, Anyway?
Some commentators won't believe Trump is real until they see an organization—but maybe an organization would just get in the way.
By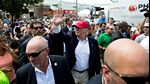 If there is any is any consensus among political professionals about Donald Trump's candidacy it is that, to sustain his summertime boom, he will need to spend his autumn developing a campaign beyond bombastic speeches and ubiquitous television interviews. In the usual formulation, this is understood to center around a field organization positioned to have individualized contact with voters in the early primary states.