Why Does Donald Trump Need a Ground Game, Anyway?
Some commentators won't believe Trump is real until they see an organization—but maybe an organization would just get in the way.
By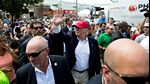 If there is any is any consensus among political professionals about Donald Trump's candidacy it is that, to sustain his summertime boom, he will need to spend his autumn developing a campaign beyond bombastic speeches and ubiquitous television interviews. In the usual formulation, this is understood to center around a field organization positioned to have individualized contact with voters in the early primary states.
"The big question," one-time Democratic presidential front-runner Howard Dean declared this week on MSNBC's Hardball, "is: does he have an organization? Because if he doesn't have an organization this is all going to go away."
Trump's camp appears to have heeded that advice at least enough to issue a mix of vague intimations (telling reporters that his Alabama rally was to establish a southern presence) and showy displays (a Trump bus making the rounds of Iowa's Wal-Mart parking lots to sign up supporters).
"I have a much more traditional campaign than people think," the billionaire reassured New York magazine's Gabriel Sherman this week.
Trump may not want to fall for his own hype. Building an actual political organization would require discipline and serious investment from a man who has yet to bring either to his political career—one of the usual reasons pros have been skeptical of his candidacy. But even as crazy and feckless as he can appear, it may be perfectly rational for Trump to forego a conventional field campaign.
The central strategic challenge for any campaign is to define the most efficient place to look for its next vote, and minimize the marginal cost of acquiring each of them. There are two options: either win over those already likely to cast ballots, or look for supporters who aren't certain to vote and turn them out. Because polls show him with a commanding position, Trump may find he already has all the votes he needs to win primaries and caucuses against a fragmented field. In that case, his objective won't be adding new voters as much as keeping what he has, by shoring up his existing base against defections to another candidate.
In a general election, a mix of approaches almost always make sense, as both parties perennially have access to large pools of easily identifiable voters who share their worldview but vote only sporadically and can be turned out through a combination of reminders and nudges. But primary elections, where opinions tend to be more fluid and coalitions less polarized, don't naturally present candidates with such well-defined pools of so-called turnout targets.
The primary campaigns that appear to have had the greatest impact mobilizing new voters have been built on historically undertargeted constituencies easily profiled by stable demographic attributes. In 1988, Pat Roberston relied on devout fundamentalist and evangelical Christians, who could be easily identified through church directories shared with Robertson's campaign. Twenty years later, Barack Obama looked to African-Americans and young whites, who could be pinpointed through voter-registration records and Census data.
The Trump coalition appears to be much more difficult to peg. As the New York Times documented, his support reflects "a broad, demographically and ideologically diverse coalition, constructed around personality, not substance, that bridges demographic and political divides." The same Civis Analytics survey on which the Times based its analysis suggested Trump's base may be disproportionately rich in infrequent voters. Among those infrequent voters, it will not be easy for Trump to confidently separate his targets from neighbors with similar attributes who might be for, say, Ben Carson or Chris Christie if turned out to vote.
Presumably voters will shift their preferences frequently over the next five months, as the distinctions among Republicans are minor compared to those that will separate the two parties eventual nominees. Even if Trump were able to use a statistical model to predict which voters were most likely to back him, could he expect in this environment that the Iowans his campaign begins to cultivate now would still be supporters on caucus night? Organizing is actually a high-risk enterprise: aggressively mobilizing the wrong voters would only serve to boost potential rivals. By January 2004, Dean's ambitious Iowa field organization had so failed to track fluctuations in his support that his volunteers were almost certainly mobilizing caucus-goers for John Kerry. If between now and early next year Trump experiences a similar dip in the polls, he would probably find it a more straightforward prospect to win back defectors through persuasion than hunt through his own smaller base in search of even less reliable voters to mobilize.
At any point, Trump certainly could use a field operation to identify likely voters for him whose support he wanted to shore up through ongoing communication, but the medium in which Trump is most effective is the least targetable. If he wanted to mail those targets, for instance, a copy of either his immigration plan or the disclosure of his personal finances—both apparently sources of equal pride to his candidacy—requires capital but not manpower. (Given that he brags about not using a pollster, Trump would face some methodological hurdles building such statistical models.)
But using volunteers for such persuasion would seem to neutralize Trump's greatest strength as a communicator. Would there be any better way to gut the "Make America Great Again" message of its appeal than to have it delivered, face to face, by a mere mortal?
If supporters are eager to give their free time to the multibillionaire candidate, he would be wise to keep them away from phone banks or doorstep canvasses where they try to influence other voters on his behalf. Instead, he would probably find their labor most valuable building the crowds at events that sustain Trump's abnormally intense media coverage. The political world can believe that Trump's "much more traditional campaign" is just around the corner; he just needs to continue to do exactly what he's been doing.