business
Army Poised to Announce Winner for $30 Billion Vehicle Program
Tony Capaccio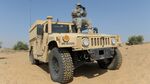 The U.S. Army will announce an initial contract Tuesday for its new Joint Light Tactical Vehicle, a $30 billion program, according to officials who asked not to be identified before the announcement.
The Army plans to produce as many as 55,000 of the multipurpose land vehicles for its use and the Marine Corps through 2040 to replace the existing Humvee. The three competitors for the contract are Lockheed Martin Corp., Oshkosh Corp. and AM General, the Humvee's maker.
The Humvee entered service in 1985, when "improvised explosive devices (IEDs) and other anti-vehicle explosive devices were not a major factor in military planning," according to a March 9 report by the Congressional Research Service.
Deadly attacks on Humvees during the Iraq war led to efforts to speed delivery of Mine-Resistant Ambush-Protected vehicles, or MRAPs. The JLTV is envisioned as a more mobile, lighter descendant of the top-heavy MRAP, which has limited off-road capabilities, essentially combining the mobility of the Humvee and the protection of the larger MRAP.
The Army required that its Hummer replacement be able to survive the most destructive improvised bombs, be mechanically reliable and maintainable with onboard diagnostics, all-terrain mobility, and linked into current and future tactical data networks, according to the CRS.
Funding for the Joint Light Tactical Vehicle program would double to $457 million in 2016 under the Pentagon's pending budget request, top $1.3 billion by 2018 and hit almost $1.8 billion in fiscal 2020, according to Army budget documents.
Army Secretary John McHugh told reporters in February that the JLTV was "an essential platform" that's fully funded through 2020. A decision on full-rate production is scheduled for May 2018.
Before it's here, it's on the Bloomberg Terminal.
LEARN MORE