Russia Restricts Detergent Sales by P&G, Colgate Over Safety
By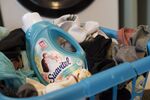 Russia's consumer-safety watchdog restricted sales of household-chemical goods produced by global companies including Procter & Gamble Co., Colgate-Palmolive Co. and Henkel AG over safety concerns, according to a statement on its website.
The regulator known as Rospotrebnadzor said a probe into washing powders and detergents made by these firms, as well as by Clorox Co., Werner & Mertz GmbH and others, showed violations of toxicological safety requirements and batches were withdrawn from sale. Studies of household chemicals and detergents produced by other manufacturers are continuing, it said.
The restrictions were imposed amid tensions between Russia and the U.S. and the European Union over the conflict in Ukraine. Regulators earlier found violations at Groupe Auchan SA, Russia's third-largest retailer, and may ban the French company from producing semi-finished food.
After the government prolonged an import ban on certain foods from Europe and the U.S. in retaliation for sanctions against Russia, officials have been ordered to carry out the public destruction of illegally imported foodstuffs, crushing them with bulldozers and steamrollers or burning them in furnaces.