China's Central Bank Injects $23.4 Billion as Yuan Intervention Drains Funds
Bloomberg News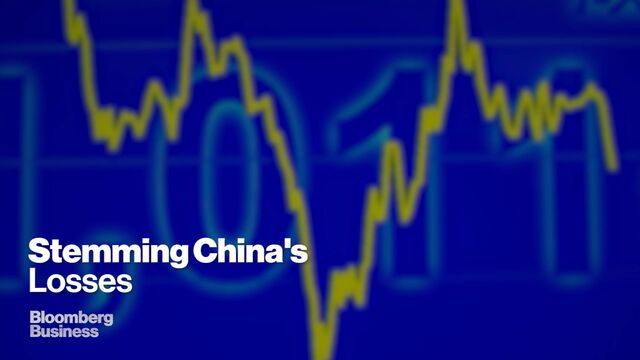 China's central bank injected the most funds via open-market operations in six months and cut lenders' reserve ratios, adding cash as it buys yuan to prop up the exchange rate and tries to arrest a stock-market slide.
The People's Bank of China also reduced the one-year lending and deposit rates by 25 basis points each to 4.6 percent and 1.75 percent, respectively. The authority earlier auctioned 150 billion yuan ($23.4 billion) of seven-day reverse-repurchase agreements, more than the 120 billion yuan that matured. In addition, it gauged appetite for loans under its Medium-term Lending Facility, after extending 110 billion yuan last week.
"The injections through open-market operations and MLF failed to bring borrowing costs lower," said Kenix Lai, a foreign-exchange analyst at Bank of East Asia Ltd. "That's why the PBOC has had to make such an aggressive move. It was unexpected to have them cutting both interest rates and RRR."
The cost of one-year interest-rate swaps, the fixed payment to receive the floating seven-day repo rate, reversed gains to drop three basis points to 2.51 percent as of 7:40 p.m. in Shanghai, data compiled by Bloomberg show.
The overnight repurchase rate climbed one basis point to a four-month high of 1.86 percent in Shanghai before the PBOC move, according to a weighted average compiled by the National Interbank Funding Center. The yield on 10-year notes due July 2025 was little changed at 3.48 percent, according to National Interbank Funding Center prices.
Treasury Deposits
The PBOC sold 60 billion yuan of three-month treasury deposits on Tuesday on behalf of the Ministry of Finance at 3 percent, the least since 2010, data compiled by Bloomberg show. It will auction another 60 billion yuan on Aug. 28, according to a statement on its website.
"In the process for the exchange rate to approach the equilibrium level, there will volatility in liquidity, and the shortfall needs to be filled," The PBOC said in a statement Tuesday. "RRR cuts can serve the purpose."
In Hong Kong, the de facto central bank injected yuan liquidity into lenders amid rising money-market rates, Reuters reported, citing people it didn't name. A Hong Kong Monetary Authority spokesperson said in an e-mail that the HKMA noticed offshore yuan liquidity had been tight and that lending rates were elevated recently.
Yuan deposit rates in Hong Kong fell, with the one-week interbank savings rate dropping to 7.93 percent. It jumped as much as 840 basis points earlier to 22.9 percent, the highest in data going back to 2010.
For more, read this QuickTake: China's Managed Markets
Major banks have been seen selling dollars toward the close of onshore trading in Shanghai on most days since a surprise yuan devaluation on Aug. 11. The intervention removes funds from the financial system and risks driving borrowing costs higher unless the monetary authority releases additional cash. China's foreign-exchange reserves will drop by some $40 billion a month for the rest of this year, according to the median of 28 estimates in a Bloomberg survey this month.
(An earlier version of this report corrected the scope of the PBOC injections in the first paragraph)
— With assistance by Helen Sun, and Robin Ganguly
Before it's here, it's on the Bloomberg Terminal.
LEARN MORE