Oil Industry Crash Leaves Wall Street Playing Catchup
By
20 of 40 S&P 500 energy stocks lagging analyst targets

Consol, Marathon Oil, Range posting biggest gaps to forecasts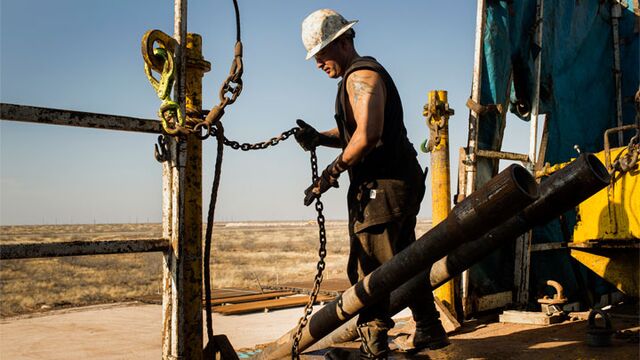 Bad news is pouring down on the U.S. oil industry so quickly that analysts can't keep up.
Half of the oil explorers, rig owners, refiners and pipeline operators in the Standard & Poor's 500 Index are at least 40 percent below the target prices set by analysts, double the number of a month ago, according to data compiled by Bloomberg. When the rout in crude markets began in June 2014, there were no companies in the group lagging their targets by that margin and one in four was actually higher than analysts were forecasting.
The widening gap between actual stock prices and where analysts think they should be follows the U.S. oil industry's worst collapse in a quarter century. Escalating production from North American shale drillers and OPEC nations had already swamped global markets with excess supply when China's economy began to stutter earlier this month, raising concern that worldwide demand will be too weak to trim the crude glut.
After the S&P 500 Energy Index shed $17 billion in value on Monday and dipped to a four-year low, Cantor Fitzgerald analyst Brad Carpenter said his expectations for crude demand and prices were too high and would have to be revised. West Texas Intermediate crude, the U.S. benchmark, traded at $39.44 a barrel on the New York Mercantile Exchange at 9:43 a.m. London time, down 16 percent this month. Still, share prices for companies engaged in exploration and production, or E&P, are bound to spring back, he said.

"For those that can take a longer-term view on the E&P space and share our slightly-bullish tilt on crude, we believe adding exposure at these levels appears attractive," Carpenter said in a note to clients.
Among index members posting gaps between actual performance and average analyst target prices as of Tuesday were Consol Energy Inc., a coal and natural gas producer, Marathon Oil Corp. and Range Resources Corp. Consol traded for $12.24 at the close in New York, well below a $24.81 average of 18 analyst targets compiled by Bloomberg. Marathon and Range also lagged targets by about half.
"We are seeing the equities try to claw back today, but with some difficulty," said Bruce Bullock, director of the Maguire Energy Institute at Southern Methodist University in Dallas. "As long as the Chinese economy is in question, commodity prices are at risk. I think there is potentially more downside risk to oil than upside."