business
Merkel Tells Germans Refugee Crisis Is Unworthy of Europe
Arne Delfs and Rainer Buergin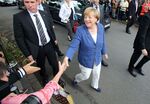 German Chancellor Angela Merkel said the region's refugee crisis is unworthy of European values and will require a bigger effort to aid those seeking safe haven.
At a town-hall meeting in the western city of Duisburg, Merkel said Tuesday that Germany must ease the process for setting up asylum centers and pledged more financial backing to tackle the crisis. Earlier, her spokesman said Merkel will visit a refugee shelter in Heidenau, the eastern German town near Dresden where anti-immigrant riots erupted last week.
"Europe is facing a situation that's unworthy of Europe," Merkel said. "The federal government will need to strengthen its support for states and municipalities. We can't just keep going in normal mode."
Merkel and French President Francois Hollande, the leaders of Europe's two biggest economies, pledged on Monday a united response to the influx, saying the refugees need to be distributed more equally among the 28 European Union countries. Hollande said Europe is facing "exceptional circumstances."
Merkel didn't cite an amount for extra spending needed for Germany to deal with an expected 800,000 fleeing war and poverty who are expected to arrive this year. The cost may be 10 billion euros ($11.6 billion), compared to 2 billion euros in 2014, the Die Zeit newspaper has estimated.
Germany's Budget
Finance Minister Wolfgang Schaeuble signaled that Germany can handle the financial burden, saying "we'll just have new priorities" in drafting the next federal budget.
No finance minister "would ever say that balancing the budget takes precedence over everything else," he told reporters in Salzburg, Austria. While that's an important goal, it's "even more important that we handle this challenge," he said.
Germany must offer asylum for those arriving from war zones, though it can't take in all migrants, Merkel said.
"We can't have three or four countries bearing the entire burden," she said. "Whoever is not being persecuted, whoever doesn't come from a country wracked by civil war -- we can't act as if he can stay."
(Updates with Schaeuble citing German budget impact in sixth paragraph.)
Before it's here, it's on the Bloomberg Terminal.
LEARN MORE