Fox News Chairman Demands Apology from Donald Trump
Trump reignited their feud Monday night.
By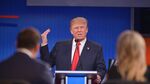 Fox News chairman and CEO Roger Ailes on Tuesday said Donald Trump should apologize to anchor Megyn Kelly for his attacks against her on Twitter:
"Donald Trump's surprise and unprovoked attack on Megyn Kelly during her show last night is as unacceptable as it is disturbing. Megyn Kelly represents the very best of American journalism and all of us at FOX News Channel reject the crude and irresponsible attempts to suggest otherwise," Ailes said in a statement. "I could not be more proud of Megyn for her professionalism and class in the face of all of Mr. Trump's verbal assaults. Her questioning of Mr. Trump at the debate was tough but fair, and I fully support her as she continues to ask the probing and challenging questions that all presidential candidates may find difficult to answer. Donald Trump rarely apologizes, although in this case, he should. We have never been deterred by politicians or anyone else attacking us for doing our job, much less allowed ourselves to be bullied by anyone and we're certainly not going to start now. All of our journalists will continue to report in the fair and balanced way that has made FOX News Channel the number one news network in the industry."      
Earlier this month, the Republican presidential candidate went after the Fox News anchor, criticizing the questions she asked him at the first Republican debate, and, some thought, suggesting she was in a bad mood that night because she was having her period. 
"You could see there was blood coming out of her eyes," Trump said on CNN the day after the debate. "Blood coming out of her wherever."
As with many other such moments during the summer of Trump, it was widely predicted that this would be the final straw, the moment that would finally sink the real estate tycoon's bid for the presidency. It didn't. A Reuters poll conducted just before the debate had Trump leading the Republican pack with 24 percent. In another poll by the same organization conducted about two weeks later, Trump was at an even stronger 29 percent. While some had predicted that Trump's attacks on a conservative darling would hurt his campaign, instead, it was Kelly who drew ire. Trump supporters piled on in social media attacks, saying Kelly treated Trump unfairly. Kelly said she had received death threats.  
Kelly went on a 10-day vacation shortly after the debate, and hosted her first post-break show on Monday. Trump was ready to reignite the war with retweets of his followers, like this one: 
He also retweeted someone saying that Kelly was off her game, suggesting she extend her vacation. 
Fox News's Sean Hannity also came to Kelly's defense, tweeting this: