Hungary Detains Record Number of Migrants Along Serbian Border
By
Wave of refugees reaching EU after clashes in Macedonia

Hungary rejects European quotas, builds razor-wire fence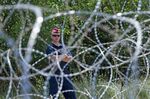 Hungary detained a record number of migrants who tried to cross illegally into the country as a wave of asylum-seekers initially held up in Macedonia approached the European Union.
Authorities detained 2,093 migrants on Monday, including Syrians, Afghans and Bangladeshis, according to data posted on the police website on Tuesday. In the southern county of Csongrad, a main transit route along the Serb border, 1,930 migrants were detained, including 309 children.
The EU has struggled to find a solution to dealing with hundreds of thousands of migrants fleeing war and poverty. While the leaders of France and Germany urged a joint response on Monday, Hungary has gone its own way, building a razor-wire fence along the Serb border and threatening to jail migrants and their smugglers.
Thousands of refugees on their way to the EU overwhelmed Macedonian authorities who tried to stop them over the weekend with batons and stun grenades. They are now making their way across Serbia to Hungary before moving on to richer countries such as Germany, Sweden and Britain.
Entry Point
Hungary serves as an entry point to the EU's passport-free Schengen zone. The government expects 300,000 illegal border crossings this year, compared with 43,000 last year. Germany expects as many as 800,000 people to arrive in 2015.
German Chancellor Angela Merkel and French President Francois Hollande, meeting in Berlin, sought a joint position for tackling the crisis, saying the burden of aiding refugees needs to be shared fairly among the 28 EU countries. An earlier proposal to spread refugees across EU nations based on quotas was rejected by leaders including Hungarian Prime Minister Viktor Orban.
The EU should instead provide more money to beef up border controls, Janos Lazar, the Hungarian minister in charge of the prime minister's office, told Magyar Hirlap in an interview published Tuesday.
"If we'd need immigration we'd organize that for ourselves," Lazar said, referring to ethnic kin living in neighboring countries. "Hungarians are living around us, they have priority."