Goldman Sachs: Here's How Much the Turmoil in Financial Markets Could Hurt U.S. Growth
By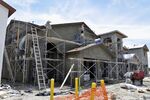 The Federal Reserve might not be too worried about the billionaires who saw their net worth take a ten-figure hit during Monday's plunge in equity prices, but monetary policymakers will have to be concerned about how the broader tightening in financial conditions could hurt the U.S. economy's growth prospects going forward.
Goldman Sachs' U.S. Financial Conditions Index, which tracks changes in interest rates, credit spreads, equity prices, and the value of the greenback, rose to a five-year high on the heels of the market turmoil:

A higher value equates to tighter financial conditions.
The steady rise of the U.S. dollar against other major currencies since mid-2014 has contributed significantly to the tightening of financial conditions seen over the past year, and the recent tumble in equities and widening credit spreads have exacerbated the magnitude of these more restrictive conditions, according to economist Sven Jari Stehn.
This tightening of financial conditions could give the Federal Reserve cause to abstain from raising rates in September.
More restrictive financial conditions hamper growth in a variety of ways. A loftier currency weighs on net exports, higher interest rates and wider credit spreads discourage investment, and the negative wealth effect that accompanies lower stock prices can crimp consumption.
The net effect of this deterioration in financial conditions since July 2014, or the "impulse to growth," as Stehn puts it, currently amounts to a 0.5 percentage point drag on real GDP growth, and under Goldman's baseline scenario, could shave 0.8 percentage points off growth by year-end:

The good news? The American consumer will receive an offset in the form of even lower prices at the pump, something not accounted for by this index.
"Although our analysis points to a significant growth drag from financial conditions over the next year, much of this is already baked into our forecasts, which include a sizable drag on growth from net exports," writes Stehn. "In addition, our estimates ignore the sharp decline in the price of oil in recent weeks, which would be expected to provide meaningful offset to the implied growth drag from the Goldman Sachs Financial Conditions Index."