Even Before Stock Market Swoon, 2016 Republicans Mum On Social Security Privatization
That giant sucking sound you hear may be a sigh of relief. Private Social Security accounts may be popular with conservatives but presidential candidates aren't talking about them so far this year.
By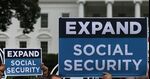 As they barnstorm the country trying to win supporters, Republican presidential hopefuls are regularly talking up the need to "save" Social Security by cutting it.