Draft Biden On Track to Be Up in 50 States By Next Week
A super-PAC backing a potential Biden for President campaign hopes to raise $3 million by the end of September.
By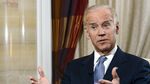 As Vice President Joe Biden intensifies his preparations for a potential presidential campaign, the super-PAC urging his run is expanding its staffing and operations and will have a presence in every U.S. state by next week, organizers said.
Draft Biden already has volunteers on the ground in 46 states and the District of Columbia, and volunteer operations will be in place in the remaining states — Idaho, Oregon, South Dakota and Wyoming — by the end of August, according to a Draft Biden aide who spoke on condition of anonymity. The aide, who was not authorized to make a statement, also said more than 250,000 people have signed on to the effort. The organization is seeking endorsements from local officials in key states, as well as from previous donors to the 2008 and 2012 Obama-Biden campaigns and Democrats who have supported Hillary Clinton in the past. The group aims to raise as much as $3 million by the end of September in order to support Biden's efforts if he decides to run. He is expected to announce his plans by Oct. 1.
Related: Biden Visits Presidential Battleground But Delivers No Speeches
The goal of a nationwide organization was mentioned in a memo from Draft Biden senior adviser Joshua Alcorn dated Aug. 23, in which he says that the organization has assembled media, fundraising and digital teams and "a dynamic field operation that aims to be up and running in all 50 states by September."
The group is prohibited from coordinating efforts with Biden, who has begun reaching out to  prospective donors and supporters.  As reported earlier by NBC, Biden also is scheduled to participate Wednesday in a call with members of the Democratic National Committee to discuss the Iran nuclear deal ahead of a congressional vote in mid-September.