Comeback for Small-Cap U.S. Stocks Would Be at Odds With History
by
September, October only months with average losses since 1926

Stock volatility, high-yield spreads seen as hurdles this year
Shares of smaller U.S. companies are headed for their biggest monthly decline in almost four years, and history suggests they may not recover their losses any time soon.
September and October are the only months in which small-capitalization stocks have posted losses on average since 1926, as the chart illustrates. The data was compiled by the University of Chicago's Center for Research in Security Prices.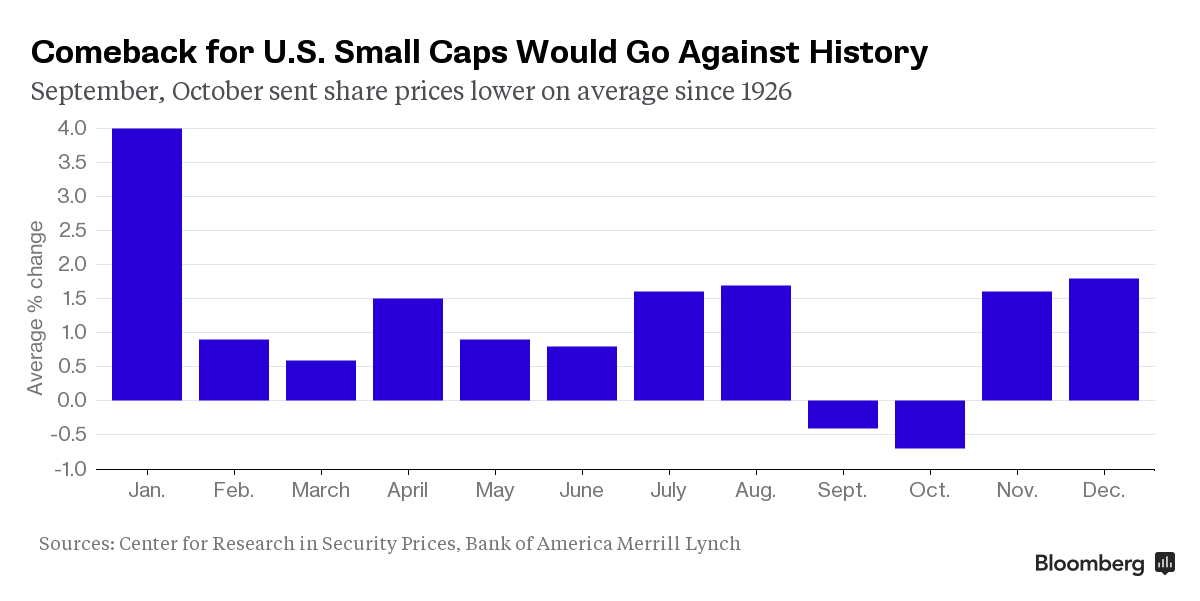 "It has been a rough summer for small caps," Steven G. DeSanctis, an equity strategist for Bank of America Corp.'s Merrill Lynch unit, wrote two days ago in a report that cited the chart's data.
The Russell 2000 Index, whose companies have a $714 million median market value, has fallen 10 percent for August. A loss of that size would be the biggest monthly decline since September 2011. Rising stock volatility and weakness in high-yield bonds indicate a rebound may not come soon, wrote DeSanctis, who is based in New York.
Yesterday's close of 40.74 for the Chicago Board Options Exchange Volatility Index, or the VIX, was the highest since October 2011. The yield gap between the Bank of America Merrill Lynch High Yield Index and Treasury securities ended last week at 603 basis points, up from 509 basis points on June 30. Each basis point equals 0.01 percentage point.
To be sure, faster earnings and sales growth among the smaller companies by comparison with larger peers points to an eventual recovery, DeSanctis wrote. He reaffirmed a year-end projection for the Russell 2000 of 1,265, which is 14 percent higher than its close yesterday.
Before it's here, it's on the Bloomberg Terminal.
LEARN MORE