Citi: The Fed Will Still Hike in September, But There's One Big Wild Card Ahead
Pay close attention to Fischer
By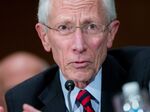 Citi is sticking with its call that the Federal Reserve will hike its policy rate next month.
The bank's economists, led by William Lee, interpreted the Federal Reserve's July minutes differently from other institutions, claiming that monetary policymakers' increased concerns about financial stability cemented the case for a hike in September.
Others institutions have recently pushed back their estimated dates for liftoff in light of international developments and volatility in financial markets emanating from China's decision to devalue the yuan.
Federal funds futures rates imply that the probability of a rate hike has slipped below 30 percent, down substantially from roughly 50 percent last week.
So what could move Citi off its September call? China could theoretically serve as a "bunker buster" - but for now, it doesn't look like a big enough deal.
However, Fed Vice Chair Stanley Fischer's appearance at the forthcoming Jackson Hole economic policy symposium is the "key wild card," says Lee.
"If he shows signs of worrying that the transitory downward pressures (commodity and energy prices and the appreciating dollar) are feeding through and becoming entrenched in wages and domestic prices—THAT would be a big event," the economist writes. "His concern would suggest reduced confidence in reaching the Fed inflation target in the medium term."