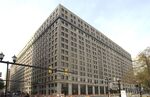 Chemical industry activity is slowing, which isn't a good sign for the future of U.S. industrial output.
One of the big questions surrounding the outlook for the U.S. expansion is how slowing growth abroad and a strong dollar will affect U.S. exports and manufacturing. The Federal Reserve's index of industrial production has slowed this year, rising 1.3 percent for the 12 months ending July, down from a 4.5 percent gain at the start of the year.
The Chemical Activity Barometer (CAB), whose indicators include the production, inventory and selling prices of numerous chemicals as well as prices of chemical stocks, rose 1.8 percent in August from a year ago (on a 3-month moving average basis), the slowest pace since late 2012.
That's concerning since declines in chemical demand have preceded drops in industrial output in the past, according to Kevin Swift, chief economist for the American Chemistry Council and creator of the index.
"Recent declines in the chemical barometer, in part, reflect a stronger U.S. dollar and weaker growth abroad," said Swift.
The chemical barometer's recent decline indicates the pace of manufacturing will slow further into 2016, making for sub-par growth ahead, Swift said. 

About 95 percent of manufactured goods are made from chemicals, as the sector is a supplier to many other industries, Swift said. With $801 billion in annual sales last year, the chemical sector is essential to America's assembly lines, he said.
Since chemicals like chlorine and polyethylene are used at the very beginning of the manufacturing process, the industry identifies emerging trends of the broader economy, Swift said. As a leading indicator of the business cycle, the chemical index leads the National Bureau of Economic Research's peaks by an average of eight months and its troughs by an average of four months, according to Swift's analysis.
NBER's last business cycle peaked in December 2007 while bottoming in June 2009. By comparison, the CAB peaked in July 2007 and troughed in March 2009.