World Looks to China to Calm Market Rout Its Actions Started
Bloomberg News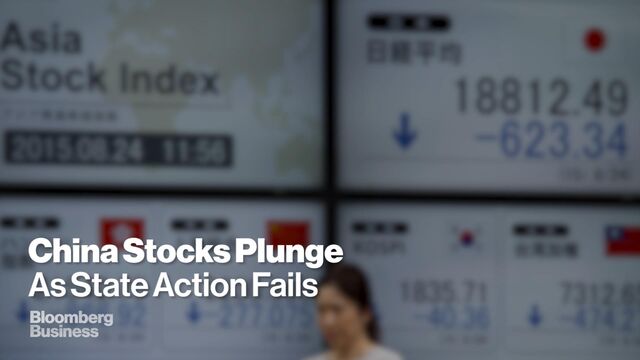 China's central bank, which helped trigger a market rout with a surprise devaluation two weeks ago, may be the only one around the world with the firepower to arrest it.
With about 25 trillion yuan ($3.9 trillion) of bank deposits still locked up as reserves and the benchmark one-year interest rate at 4.85 percent, the People's Bank of China has an ample monetary policy arsenal at its disposal. Lending rates in the U.S., Europe and Japan already are close to zero and the rout is shaking confidence that the global economy will be strong enough to withstand an expected policy tightening by the Federal Reserve.
The devaluation of the yuan on Aug. 11 deepened concerns over a malaise in the world's second-biggest economy and spurred a selloff in global markets. China's central bank Tuesday added the most funds to the financial system in open-market operations in six months, Asian stocks rose with U.S. index futures, while Chinese stocks extended losses.
"I would not rule out the possibility that China rolls out some strong stimulus plans particularly through fiscal policy," said Zhao Yang, chief China economist at Nomura Holdings Inc. in Hong Kong. "It is unlikely to reverse the downward trend of economic growth, but may offset somewhat the headwinds."
The MSCI Asia Pacific Index climbed 0.7 percent by 12:42 p.m. in Hong Kong. The Shanghai Composite Index tumbled 4.3 percent to 3,071.06.
Little Room
As an example of how little room central banks have to fight fresh crises, benchmark rates in developed economies currently average just 0.22 percent, according to JPMorganChase & Co. That's 316 basis points lower than the average from 2005 to 2007. Most have also swollen their balance sheets to unprecedented levels with asset purchases.
Still, China's woes could shape the decision-making of other central banks by weakening the global economic outlook and transmitting another bout of deflationary pressures around the globe. Economists are already debating whether the Fed will delay raising interest rates or if the European Central Bank will bolster its quantitative easing program.
The debate about what central bankers can and should do is underway just as many of them prepare to travel to Jackson Hole, Wyoming, for the Federal Reserve Bank of Kansas City's annual monetary policy conference.
'More Dovishness'
"We do wonder if there will be a sense of much more dovishness coming out of there," said David Owen, chief European financial economist at Jefferies International Ltd. "Central bankers will have to be thinking about what to do."
Reserve Bank of India Governor Raghuram Rajan called on policy makers to avoid giving "booster shots" to stock markets.
"It is not the role of the central bank to elevate sentiments unduly, to deliver booster shots to the stock market so that it can soar for a while, only to collapse when reality hits," he told a conference in Mumbai on Monday.
In China, the case for policy easing is rising; a manufacturing gauge fell to the lowest in more than six years this month, following weaker-than-expected data on investment, industrial output, retail sales and exports in July.
Policy makers' efforts to underpin growth have yet to avert the slowdown, threatening Premier Li Keqiang's expansion target of about 7 percent for this year. Measures have included four interest-rate cuts since mid-November, a debt swap program to ease financing pressure on local governments, and funds injected into policy banks to channel credit to the economy.
'Circuit Breaker'
A "circuit-breaker" easing needs to come from China to end negative feedback coursing through currency and share markets, said Shane Oliver, head of investment strategy at fund manager AMP Capital Investors Ltd. in Sydney, which oversees about $114 billion. He expects China to cut the benchmark lending rate to 4 percent from 4.85 percent by year-end.
"Significant interest-rate and reserve-ratio cut in China would be enough to soothe current jitters and head off the threat to Chinese and global growth," he said. "It is the only major country that has firepower."
China is struggling to support growth without exacerbating a buildup of debt after a lending binge following the global financial crisis. The McKinsey Global Institute estimates that debt has risen to 282 percent of gross domestic product.
China also cannot drive interest rates too low for fear of triggering massive capital flight, said Victor Shih, a professor at the University of California at San Diego who studies China's politics and finance.
Bazooka Tactic
Stephen Jen, co-founder of London-based hedge fund SLJ Macro Partners LLP, said the issue may be "Beijing's willingness not its ability."
"This is the last major central bank that has not embarked on an 'all-out' nuclear-tipped bazooka tactic," he said. "But Beijing has refrained from doing so for good reasons: it is very worried about the out-of-control credit growth, and such a monetary policy would only sow the seeds for future crises even if it could help alleviate market pressures right now."
— With assistance by Kevin Hamlin, and Xin Zhou
Before it's here, it's on the Bloomberg Terminal.
LEARN MORE