U.K. Air-Show Deaths Prompt Regulators to Review Aerial-Display Rules
Benjamin Katz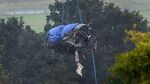 Britain's aviation regulator curbed flying displays by vintage jets and said it will revisit rules governing air shows following a crash involving a 1950s Hawker Hunter warplane that police say killed as many as 20 people.
The jet fighter burst into flames as it hit vehicles on the A27 highway Saturday after failing to complete a loop at the Shoreham air show on England's south coast. At least 11 people are assumed dead and that number could rise, Sussex police said.
With the incident marking the second fatal crash at a U.K. air display this month, the Civil Aviation Authority said Monday it has begun an immediate review of the circumstances to establish what regulatory improvements can be made. Hunter planes are temporarily grounded and displays by vintage jets will be limited to flypasts, with no "high energy aerobatics."
The CAA will assess "everything from the requirements for the show, logistically, the requirements for the pilots' qualifications, and the requirements for the aircraft as far as their ongoing fitness," spokesman Jonathan Nicholson said. Risk assessments for future shows will also be run to determine "if additional measures should be introduced," the CAA said.
Farnborough Deaths
Pilots are only able to perform at air shows after a thorough test of their abilities, with aircraft also required to meet rigorous safety requirements, the CAA said, describing U.K. standards as "among the very highest in the world."
British air-display rules were originally tightened after a de Havilland DH.110 fighter broke up during a supersonic flypast at the Farnborough Air Show in 1952, killing its two crew and then 29 spectators as its engines smashed into the crowd.
Since then, planes have been banned form performing directly above spectators, with coastal events such as shows at Lowestoft and Clacton seen as safer since flying takes place over the sea. At Shoreham, planes displayed over the runway.
On Aug. 1, a Folland Gnat jet fighter/trainer also dating from the 1950s crashed at the CarFest North show in Oulton Park, Cheshire, killing its pilot. The Hawker Hunter's pilot, Andrew Hill, survived the Shoreham crash and was described as being in a critical condition afterwards.
The CAA said it will assist the Air Accidents Investigation Branch in its attempts to establish the cause of the crash in coming weeks.